MotoYuva W230: Music at most affordable range
New Delhi, Tue, 05 Feb 2008
NI Wire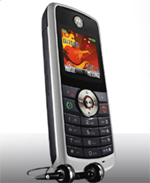 The Motorola India has launched a new mobile handset in Indian market that promises all mobile phone basics with a fantastic music experience. The mobile music phone MotoYuva W230 is especially developed for Indian consumers and priced at a best buy price of Rs 3,050.
The mobile is available at all MotoStores and offers onboard MP3 player, stereo FM radio with up to 2GB expandable memory. With this mobile users can save up to 500 MP3 songs.
As the name suggest the phone is to cater the needs of youngster with music player and audio enhancing technologies with a long battery life as said in company statement. Enabled with MP3 portability user can easily transfer MP3 audio files from PC or laptop.
The device is also enabled with ability to synchronize Windows Media Player version 11 and above.
Fun Features:
Audio - MP3 Display - 128 X 128 65K with vibrant colours FM radio - FM radio with RDS and stereo support (RDS is a region dependent feature) Alarm clock - User can easily personalised through FM radio recording
Messaging: Users can easily create and send messages with an enhanced messaging interface. It supports up to 500 SMS storage to the phone. One can also share FM stations with others via SMS.
Technical Specification: The phone weighing just 83 gm comes with an inbuilt 256 MB memory card but can be extended up to 2GB external memory with optional removable microSD card. Battery life portrays a 550 minutes talk time and 450 hours standby time.
As far as storage capacity is concerned the inbuilt memory supports a phone book memory of up to 500 names and 500 SMS.
Connectivity: With T-Flash and USB 1.1 users can easily share music.
Other Features: Among other basics lifestyle features the phone is enabled with GPRS, calendar – monthly & weekly view with event reminder, currency converter, calculator and stop watch.
However, the phone is completely made keeping in mind the music and sound features and can be considered as the best one for all young music lovers with this price tag.
LATEST IMAGES

MORE...
Social bookmark this page
Post comments:

amit
October 18, 2008 at 12:00 AM

vikrant
October 16, 2008 at 12:00 AM

somesh kalwani
September 29, 2008 at 12:00 AM

antony
August 31, 2008 at 12:00 AM

Jaydeep
August 25, 2008 at 12:00 AM

Jaydeep
August 25, 2008 at 12:00 AM

Bharat Prajapati
August 14, 2008 at 12:00 AM

Akash
July 15, 2008 at 12:00 AM

ankur
July 14, 2008 at 12:00 AM

joyce sapitanan
July 6, 2008 at 12:00 AM

Umesh
July 8, 2008 at 12:00 AM

Rakesh Patel
June 20, 2008 at 12:00 AM

satheesh
June 10, 2008 at 12:00 AM

JAY
May 21, 2008 at 12:00 AM

Ravishankar
April 7, 2008 at 12:00 AM

charit saini
March 22, 2008 at 12:00 AM

Rajkishore
March 18, 2008 at 12:00 AM

Ricky
March 11, 2008 at 12:00 AM

Aks
March 7, 2008 at 12:00 AM

gopal mishra
March 3, 2008 at 12:00 AM

waqas
February 29, 2008 at 12:00 AM

aadil
February 29, 2008 at 12:00 AM

Prakash
February 28, 2008 at 12:00 AM

Boby moirangthem
February 21, 2008 at 12:00 AM

sanjeev
February 20, 2008 at 12:00 AM

Bimal Prasa
February 18, 2008 at 12:00 AM

Ravindra Yadav
February 16, 2008 at 12:00 AM

vaisakh
February 12, 2008 at 12:00 AM

BINAY KUMAR.S
February 5, 2008 at 12:00 AM

Deepak Gupta
February 5, 2008 at 12:00 AM