Marvel's mightiest super heroes, Thor and Hulk, to go on a multi-city tour in India!
Hollywood, Fri, 13 Oct 2017
NI Wire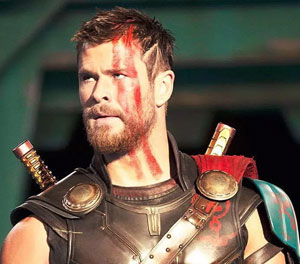 Over the years, Marvel movies have forged a strong connection with super hero fans and movie buffs, and amassed a loyal fan base in India. Today, Marvel Studios is a 'phenomenon' that is impossible to miss and these Super Hero titles are always a highly anticipated release each year. Marvel's forthcoming title that is being awaited with bated breath is Thor: Ragnarok, which thunders into the theatres on November 3, 2017. To add to the excitement Marvel India is unveiling the all-new Thor and Hulk figurines in Mumbai followed by a multi-city tour in India.
Thor: Ragnarok is the third instalment of the franchise – Thor and Thor: Dark World. In the film, Asgard is threatened but Thor is imprisoned on the other side of the universe without his hammer and to escape and save his home world he must fight his former ally and fellow Avenger—the Incredible Hulk!"From the first teaser trailer of Thor: Ragnarok there's been a lot of excitement, positivity and anticipation among super heroes fans. The movie also unites two of the most loved super heroes in the country, Thor and Hulk. At the Studio, we felt this tentpole release deserves a celebration of sorts, so to extend this excitement beyond the screen, we thought it would be a great idea to activate an on-ground event, giving Marvel, Thor and Hulk fans to meet their favourite character," said Amrita Pandey, Vice President - Studios, Disney India.
After the launch in Mumbai the figurines will visit multiple locations within Mumbai and travel to Delhi, Hyderabad and many more cities to meet and interact with Marvel fans in the country. In Hyderabad the figurines will participate in the much-awaited Hyderabad Comic Con, the biggest carnival of sorts for super hero fans on 14th and 15th October 2017.
So, don't miss these 'Marvel'ous Men engage in some fun and action in your city!
Marvel's Thor: Ragnarok will hit theatres on 3rd November in English, Hindi, Tamil and Telugu in IMAX, 3D, 4DX and 2D formats.