Swine Flu: Woman dies in Hyderabad, takes death toll to 6 since August 2016
Hyderabad, Tue, 10 Jan 2017
NI Wire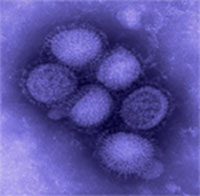 After season's first case of Swine flu was reported in Lucknow of Uttar Pradesh, a one more case of Swine flu was caught in which a woman died of it in Hyderabad of Telangana. A woman died of Swine flu which takes the death toll to six since August 2016.
As an official said, a 35-year-old woman died at government run Gandhi Hospital, taking the death toll to six since August 2016. The woman was admitted to the hospital a few days ago, died on Sunday but this was confirmed by the authorities today. The woman belongs from Yadadri district.
According to the health officials, a total of 2,762 samples were tested from August 1, 2016 to January 7. Out of these, 112 samples were found positive. The maximum number of cases was 50 which reported from Reddy district while Hyderabad accounted for 40 cases.
Doctors said since the winter season might continue for another month, people should take all precautions. The health department has advised people to approach the hospital at the first symptoms of swine flu like high fever, sneezing, cough and body pain.
It asked hospitals to isolate people having symptoms of swine flu and send their samples to Institute of Preventive Medicine (IPM). If patients are unwilling to get admitted to private hospitals, they have been asked to shift them to Gandhi Hospital, which is the nodal centre for swine flu for the entire state.
The Officials said that sufficient stock of medicines was available at all teaching hospitals, district and area hospitals.
"There are enough testing kits and kits for Viral Transport Medium (VTM). IPM is also providing free testing services to all in-patients from private hospitals," said an official statement.
Homeopathic medicines can also be taken as a precautionary measure. These medicines were available free of cost in government homeopathic hospitals, Ramanthapur in Hyderabad and at all AYUSH dispensaries.
Swine Flu viruses may mutate so that they are easily transmissible among humans and because of that it is considered as a dangerous disease. There are some symptoms of Swine Flu in humans are fever (100 F or greater), cough, nasal secretions, fatigue and headache and the incubation period for the disease is about one to four days.
Swine flu is contagious about one day before symptoms develop to about five to seven days after symptoms develop, some patients may be contagious for a longer time span. The disease lasts about three to seven days with more serious infections lasting about nine to 10 days.
To prevent or reduce the chances of becoming infected with influenza viruses the best way is Vaccination and to care at primary level go to specialists, pediatricians and emergency.
--with agency inputs