SSC- Recruitment of Cabinet Secretariat 2013
New Delhi, Fri, 22 Mar 2013
NI Wire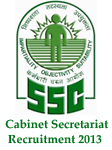 The Staff Selection Commission (SSC) has advertised for Recruitment for various posts in Cabinet Secretariat 2013, which application forms are open for filling.
Click here to find advertisements:
Click here to fill up application form online:
The last date of submission of application form is 17-04-2013 till 5:00 p.m.
The last date of filling part-I registration is 15-04-2013 till 5:00 p.m. while the last date for submitting the part - II registration is 17-04-2013 till 5:00 p.m.
SSC in its official website says about submitting the fee, "Candidates submitting their application online should pay a fee of Rs. 100/- (One hundred only) through State Bank of India challan or online account with SBI. All Women candidates and candidates belonging to Scheduled Caste and Scheduled Tribe are exempted from paying application fee, as per extant government orders."
The examination for the above posts will be held on 17 June 2013.