Late Neil Armstrong to be buried at sea
New Delhi, Fri, 07 Sep 2012
NI Wire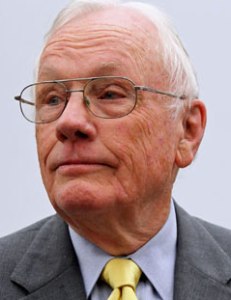 Neil Armstrong, the first man to tap his feet on the moon, will be buried at sea, family spokesperson Rick Miller confirmed.
Miller said on Thursday that no further details about the timing or the location of the burial were available, reported Xinhua.
Earlier, the US Astronaut Neil Armstrong died on Aug 25 at the age of 82 due to some health complications as a result of cardiovascular procedures.
Armstrong headed the Apollo 11 spacecraft that landed on the moon July 20, 1969 and is best remembered by saying "That's one small step for (a) man, one giant leap for mankind".
Armstrong and his fellow astronaut Buzz Aldrin spent two and a half hours walking on the moon during their tour, collected samples, conducted experiments and took photographs, while astronaut Michael Collins remained in orbit in the command module.
-With inputs from IANS
LATEST IMAGES

MORE...
Social bookmark this page
Post comments: