Raaz 3 Movie Review: Does it really scare?
New Delhi, Fri, 07 Sep 2012
NI Wire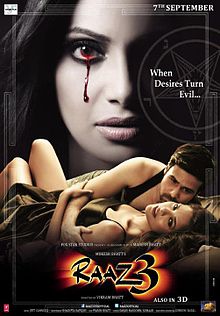 Star Cast: Emraan Hashmi (Aditya), Esha Gupta (Sanjana), Bipasha Basu (Shanaya), Mohan Kapoor, Yusuf Hussain and Manish Choudhary
Producer: Mahesh Bhatt and Mukesh Bhatt
Music Director: Jeet Ganguly and Rashid Khan
Director: Vikram Bhatt
The much-awaited Horror-thriller of the year "Raaz 3" is out to cinema halls with its release this Friday. Third in the 'Raaz' series, the Bhatt camp has already raised the expectations from the movie with its high-end promotional camps prior to the release of the movie.
The story of 'Raaz 3' revolves around Shanaya Shekhar (Bipasha Basu), a bollywood actress enjoying the peak of her success in the industry. She has all the offers from top directors, bags all the awards and is the leading lady of the industry. But the twists start for her after the entry of a new actress Sanjana (Esha Gupta), who slowly overshadows the dominance of Shanaya in Bollywood. This thing is proved to Shanaya when Sanjana receives the best actress award beating her.
Now, its very difficult to Shanaya to digest her loss and eventually she looses her temperament that develops a thinking in her mind that god has never done her anything right. So to take her revenge she turns to the darker sides and takes the help of the evil spirit (Manish Choudhary) who gives her some water encoded with some black magic that will diminish the success of Sanjana by making her mentally ill.
Shanaya involves her director come boyfriend Aditya (Emraan Hashmi) with her and plans to make the life of Sanjana living her without killing her. Aditya takes on Sanjana on his next film and mixes the evil water into her drink. The black magic works and Sanjana's life becomes a haunted story of horror, scary clowns and unusual noises.
But slowly, Aditya falls in love with Sanjana and is caught between Shanaya's obsession and the love towards Sanjana.
Talking about the story and performances. The movie has a good script in the first half, which will bind you to your seats, but as the story progress in the second half, the story line becomes relatively weak leaving you at disappointment. Again Bipasha steals the show with her power packed performance as an evil. Emraan Hasmhi is ordinary with his role due to lack of proper script for him. Esha Gupta as Sanjana has justified her character pretty well and really impressive at some scenes. Manish Choudhary has done an excellent job as the evil spirit.
Submitted by: Amit Pandey
LATEST IMAGES

MORE...
Social bookmark this page
Post comments:

Marmik Doshi
September 7, 2012 at 1:02 PM