Heroine Movie Review: Story doesn't Kareena impresses
New Delhi, Fri, 21 Sep 2012
NI Wire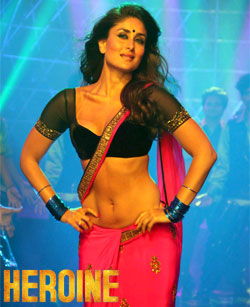 Directed by: Madhur Bhandarkar
Produced by: Ronnie Screwvala, Madhur Bhandarkar
Screenplay by: Anuraadha Tewari, Manoj Tyagi
Story by: Madhur Bhandarkar
Cast of Heroine: Kareena Kapoor as Mahi Arora, Arjun Rampal as Aryan Khanna, Randeep Hooda as Angad Paul, Shahana Goswami, Divya Dutta, Mughda Godse, Helen
"If you have seen Madhur's other film, Heroine has nothing new to offer except Kareena Kapoor. She has given the role of her life and is the only reason to watch the film."
Story:
Heroine is the story of Mahi Arora who is a reigning queen of Bollywood and everybody wants to work with her. Mahi falls in love with the star Aryan Khanna, who is getting through divorce. Mahi wants to marry him but Aryan is still not ready for commitment and refuses to acknowledge their relationship in public.
Mahi then seeks psychiatric treatment and tries to straighten her career and her life. She then fights with a star wife at a party and Aryan dumps her.
Mahi slowly starts losing her stardom and name in the film industry. So she hires a new PR and while rebuilding her career finds a new boyfriend in Angad Paul.
But instead of getting easy life becomes more difficult for her. She suffers from bipolar disorder. At the end she becomes a lot desperate and uses a cheap publicity stunt to make her movie a hit.
Review:
Heroine has shown every real controversy that people have already witnessed like an actor who edits his co-actor's role out of fear, actress joining hands with businessman when there career are fading, a leaked MMS, a gay designer and many other.
Kareena has performed superbly and acted the way you have never seen before. She has always been glamorous but this time she has given some scenes that we couldn't expect.
Other actors, Arjun as a confused and stud actor, Randeep as cricketer and lover, Divya as PR, Sanjay and Shahana in their small roles have played their role well.
Heroine Official Trailer
Heroine Official Song: Mein Heroine Hoon
Heroine Official Song: Saaiyaan
Heroine Official Song: Halkat Jawani
LATEST IMAGES

MORE...
Social bookmark this page
Post comments:

dhruvin
September 24, 2012 at 2:42 PM