Kids show curiosity towards 'water conservation'
New Delhi, Thu, 30 Aug 2012
NI Wire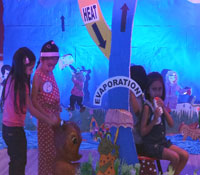 It was a much-anticipated evening at the Aadyant School in Vasant Vihar Kids, in the age group of 3-5 were expectant of an evening of fun and frolic, like most other evenings. Occasion was when a group of socialites left behind the usual demands of fashion and glamour to educate children on a truly social cause i.e. Water Conservation.
These children spent an entire evening understanding a major social responsibility, which was taught to them by a group of socialites, led by Ms. Ruchie Mittal, promoter of Aadyant School. She spread awareness on the critical subject, in association with the Little League Organisation. Other leading socialites in the group included Ms. Sonal Gupta from the Gold Souk Family, Ms. Kashish Gupta from the Avalon Family and Ms. Anshita Madan from Johnson Watch Company, among others.
Educating the kids on the need for water conservation, Ms. Mittal said, "Imagine buying water at the rate of gold, 15 -20 years from now. That's likely to become a reality if we continue wasting water at the current rate and don't recycle."
A World Bank report has already classified 29% of India's groundwater reserves as being in a 'semi-critical' state and has warned that 15 years down the line, India stands the risk of losing about 60% of such reserves.
It is noted that the Little League founded by Ravleen Anand is a group of ever-active toddlers and their young First Time mothers that aims to introduce emerging concepts in well-being, skills, personality and intellectual development of toddlers and their mothers; and organize entertainment, learning and interaction opportunities for them.
LATEST IMAGES

MORE...
Social bookmark this page
Post comments: