Hollywood Movie Review: Expendables 2 action packed and thoroughly enjoyable
New Delhi, Sat, 18 Aug 2012
NI Wire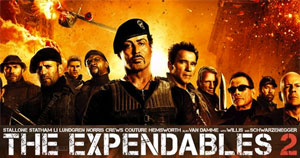 Directed by: Simon West
Produced by: Avi Lerner, Danny Lerner, Kevin King Templeton, Les Weldon
Screenplay by: Richard Wenk, Sylvester Stallone
Story by: Ken Kaufman, David Agosto, Richard Wenk
Cast of Expendables 2: Sylvester Stallone (as Barney Ross), Jason Statham (as Lee Christmas), Jet Li (as Yin Yang), Dolph Lundgren (as Gunner Jensen), Chuck Norris (as Booker), Terry Crews (as Hale Caesar), Randy Couture (as Toll Road), Liam Hemsworth (as Billy the Kid), Jean-Claude Van Damme (as Jean Vilain), Bruce Willis (as Mr. Church), Arnold Schwarzenegger (as Trench)
"Stuffed with action veterans, this film is a complete entertainer with lots and lots of action and one liners. Film is humorous and in some way better then its prequel."
Story of Expendables 2
Movie starts with Mr. Church, a secretive CIA assigning Expendables a job to rescue a billionaire in Nepal. As expected there are lot of bullets and explosions. People just vanish into blood!
After they return they are given another assignment to retrieve a box from a plane that crashed in Albania. This time every thing does not go as planned and the new person added, Billy the Kid is killed by Jean.
They are then joined by Bruce, Arnold and Chuck Norris to stop the bad guys and to take the vengeance.
Much like its predecessor this film too has great action scenes but the addition is the hilarious side. It is not that serious and one liners are priceless.
Expendables 2 Official Trailer:
Expendables 2 Official Trailer 2
LATEST IMAGES

MORE...
Social bookmark this page
Post comments: