PM Concerns over Moodey's downgrading, but hopes India will do better
New Delhi, Sat, 11 Aug 2012
NI Wire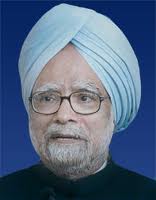 Expressing concern over the latest report of International Credit Rating Agency, Moody's (one of the three major International credit rating agencies) which has downgraded India's growth rate to 6% on the growing slowdown and less efforts made by Indian government and Reserve Bank of India, Prime Minister Manmohan Singh Saturday said, "It is a cause of concern."
He however was positive on India's economic future as the fundamental of India's economy is strong. Expressing hope PM said, "The fundamentals of the economy are strong. We have the highest savings and investments rate in the world."
"We shouldn't draw unwarranted conclusions. This year we will see better than 6.5 percent (GDP) growth of last year," said Singh on the sidelines of the swearing-in ceremony of Vice President Hamid Ansari at Rashtrapati Bhawan on Saturday.
"I am hopeful, we will do still better than 6.5 per cent growth performance of last year," he added.
The research unit of ratings agency Moody's Investors Service became the latest to cut India's growth forecasts this week.
Moody's said the slowdown in India's economy "has been sharper and more broad-based than anticipated and is now deeply entrenched across all sectors of the economy," in a note dated August 8.
Despite the slowing growth, Moody's said both the government and the Reserve Bank of India had provided "little policy response."
Moody's added weaker-than-average rainfalls during the monsoon period would also weigh on India's growth. The research unit also cut its 2013 growth forecast to 6 percent from 6.2 percent.
India's economic growth slumped to nine-year low of 5.3 percent in the quarter ended March. For 2011-12, India's GDP expanded by 6.5 percent, substantially down from 8.4 percent growth registered in the previous year.
The government is aiming at around 7 percent growth, but the Reserve Bank of India last week lowered the growth outlook to 6.5 percent for 2012-13.
The newly appointed Finance Minister P. Chidambaram has said the government would necessary steps and remove hurdles in critical sectors like power and transport that are impeding growth.
--With Agencies Inputs--
LATEST IMAGES

MORE...
Social bookmark this page
Post comments: