Hollywood Friday Release: Savages Movie Review
New Delhi, Fri, 06 Jul 2012
NI Wire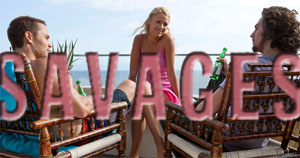 Directed by: Oliver Stone
Screenplay by: Shane Salerno, Don Winslow, Oliver Stone
Based on: Savages by Don Winslow
Cast of Savages: Taylor Kitsch (Chon), Aaron Taylor-Johnson (Ben), Blake Lively (Ophelia "O"), Salma Hayek (Elena), Benicio del Toro (Lado), Emile Hirsch (Spin), John Travolta (Dennis)
"Savages is a story of two marijuana growers who have a common girlfriend. A Mexican drug cartel kidnaps her to force the duo to work with them. Duo then fight with all of them to get her back".
Savages directed by Oliver Stone is an action film but it does not have much to interest people.
Ophelia or O is the narrator of the story. Ben is a Berkeley graduate from University of California and Chon is a former U.S. Navy SEAL who live with their common girlfriend O.
Ben and Chon are best of buddies and the duo together are involved in growing extraordinary marijuana with sky-high THC counts. While Ben is the brain, Chon provides muscle to keep the bad guys away.
On the whole the three have a great and peaceful life at Laguna Beach, Calif. with O having sex scenes with each and both. They even use some of the money for noble causes.
But their life is jolted upside down when a Mexican drug cartel formerly called as Baja Cartel wants in on their action.
Ben and Chon do not want to go with the deal and decide to pull up stakes and flee.
But Drug cartel kidnaps O to force Ben and Chon join hand. Once the things get personal, boys decide to fight with the cartel all the way up to Elena who is the Almighty of this cartel.
John Travolta plays a double-dealing Drug Enforcement Administration officer Dennis, who warns Ben and Chon in the very start that Don't mess with Walmart (what he calls the Baja Cartel). He securely plays on both sides.
End is a little mysterious which will not be revealed here or the film will have nothing on their court left then.
So does Ben and Chon gets O back, or as she says from the start that Just 'cause I'm telling you this story doesn't mean I'm alive at the end of it" has something to do with the end.
To find out answers to all these questions go to watch Savages.
null
null
LATEST IMAGES
null
null
MORE...
Social bookmark this page
Post comments: