It's time for healing, says PM singh to Assam violence victims
Guwahati, Sat, 28 Jul 2012
NI Wire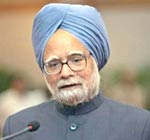 Prime Minister Manmohan Singh, who faced initial problem in reaching Assam ethnic violence-hit areas due to bad weather as per official said, later managed to visit on the spot through Indian Air Force (IAF) chopper. He there interact to the victims who lost their kin, homes and properties.
Sharing the "pain" of victims, Prime Minister said it was now "time for healing". He pledged to the victims to provide all possible help from centre.
Appealing to agitators, Singh said, please shun recrimination and help rehabilitation and foster peace.
"I have come here to share your sorrow and pain. This is a time for healing," the prime minister said in his interactions with the media following a visit to a relief camp where around 1,500 people driven out of their homes by rioters are staying.
"This is no time for recriminations. We need first to help the people to rehabilitate and bring peace," he added.
Prime Minister Manmohan Singh Thursday announced Rs.300 crore assistance for relief and rehabilitation measures for the violence-affected areas of Assam.
Addressing a press conference at the Circuit House in Kokrajhar after visiting two relief camps located near the town, the prime minister announced a special central assistance of Rs.100 crore as immediate relief and another Rs.100 crore under special plan assistance for development of the violence-affected areas.
Manmohan Singh also assured another additional amount of Rs.100 crore under the Indira Awas Yojana (IAY) scheme to the affected people.
He also announced an ex-gratia payment of Rs.2 lakh from the Prime Minister's National Relief Fund to the kin of those people who had lost their lives in the violence. The injured persons will also be paid Rs.50,000 to Rs.30,000 depending on the nature of their injury.
The bodoland areas of lower Assam has been hit by ethnic violence between Bodo tribes and Bengali speaking Muslims since last seven days. The riots began when two students belonging to one community were shot dead in Kokrajhar district.
Later the violence spread to nearby districts ? Bogaigoan, Dhubri, Chirang and Udalgiri.The week-long communal violence in the Bodo areas of the state has till now claimed the lives of 45 people and a estimated 2.5 lakh people have been rendered homeless.
--With IANS Inputs--
LATEST IMAGES

MORE...
Social bookmark this page
Post comments: