Hollywood Friday Release: Abraham Lincoln-Vampire Hunter Movie Review
New Delhi, Fri, 13 Jul 2012
NI Wire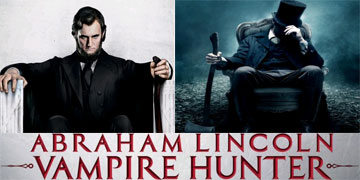 Directed by: Timur Bekmambetov
Produced by: Timur Bekmambetov, Tim Burton, Jim Lemley
Screenplay by: Seth Grahame-Smith
Based on: Abraham Lincoln, Vampire Hunter by Seth Grahame-Smith
Cast of Abrahim Lincoln-Vampire Hunter: Benjamin Walker (Abraham Lincoln), Dominic Cooper (Henry Sturges), Anthony Mackie (Will Johnson), Mary Elizabeth Winstead (Mary Todd Lincoln), Rufus Sewell (Adam) and Marton Csokas (Jack Barts)
"Abrahim Lincoln Vampire Hunter is a complete action fantasy film that tells the story of 16th President who is also a Vampire Hunter. Action sequence especially the one at the train and special effects are superb. Hollywood action lovers must go for it."
Abrahim Lincoln-Vampire Hunter movie review:
History prefers legend to Man, it prefers nobility to brutality... Only Living can kill the Dead...
The story starts when Lincoln is a kid and lives with his parents, Nancy and Thomas. Thomas works under Jack Barts who secretly is a Vampire and attacks Nancy and kills her. Lincoln sees this a vows to kill him.
9 years later he attacks Barts only to find out he is a vampire. Henry makes an entry and saves Lincoln. He then offers Lincoln to become a Vampire Hunter, which is agreed by later.
Adam is the main villain from whom all the other vampires descended in America. Henry teaches Lincoln about the ways to kill vampires. After learning, he defeats Barts who while dying tells Strugess is also a vampire.
Meanwhile Lincoln falls for Mary Todd. Lincoln abandons his mission and begins his political career. He becomes Presidents of United States and also marries Mary.
Abrahim comes to know that Vampires are planning to take over America, so to fight them he order confiscation of all the silverware in the area and has it melted to produce silver weapons.
Then they have a fight on train where Adam is killed. Without a leader, they have a last stand against Lincoln army.
To know who wins, to enjoy action to its core, go watch the film at your nearest theatre.
Abrahim Lincoln-Vampire Hunter Trailer 1
Abrahim Lincoln-Vampire Hunter Trailer 2
LATEST IMAGES

MORE...
Social bookmark this page
Post comments: