Yahoo, Facebook to form alliance for web advertising
New Delhi, Tue, 10 Jul 2012
NI Wire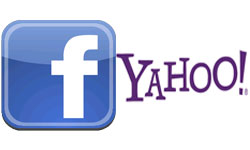 U.S.based Internet giants Facebook and Yahoo have finally agreed to settle a patent dispute between them and planning to form an alliance for web advertising, report says.
Both the companies agreed to work together to provide the advertisers new ways to promote their products and services using Yahoo and Facebook's websites.
As per a statement, the settlement between both the companies includes a cross-license agreement, the Telegraph reports.
Yahoo had filed the original patent lawsuit headed by Scott Thompson, who resigned as chief executive officer in May.
In the lawsuit filed in March, Yahoo alleged that Facebook contravened the patents covering such functions as Internet privacy, advertising and information sharing.
Facebook, which is presently, the largest social-networking service provider, countersued on Yahoo in April, accusing Yahoo of infringement.
According to sources related to the matter, Ross Levinsohn, who stepped in as the chief executive after the resignation of Thompson, helped work out the terms, and settled the ongoing legal dispute between both the firms.
Sheryl Sandberg, Facebook's chief operating officer, said 'we were able to resolve this in a positive manner and look forward to partnering closely with Ross and the leadership at Yahoo.'
"Yahoo's new leaders are driven by a renewed focus on innovation and providing great products to users," Sandberg added.
-With inputs from ANI

LATEST IMAGES

MORE...
Social bookmark this page
Post comments: