Teri Meri Kahani Movie Review
New Delhi, Fri, 22 Jun 2012
NI Wire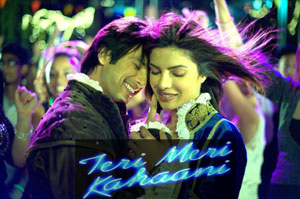 Director: Kunal Kohli
Screenplay: Robin Bhatt
Story: Kunal Kohli
Produced by: Kunal Kohli, Vicky Bahri, Sunil Lulla
Cast of TMK: Shahid Kapoor (Javed, Govind, Krishna), Priyanka Chopra (Aradhana, Rukhsar, Radha), Prachi Desai (Maahi) and Neha Sharma (Meera)
"Teri Meri Kahani takes you to three different love stories in three different eras. It is a decent attempt to portray that love has no limit. Though the chemistry between the duo is great, but it might get dull after sometimes".
Trailer of the TMK starts with saying "Pehli bar hum kisise kab kaise kaha kis life mein milte hai ye hume bhi nahi pata..." Well the line is the summary of the film. Two people thoroughly in love with each other some how meet in three different life and falls in love. Thankfully unlike other films there is no trauma of their odd remembrance of the past.
Film starts in the era of British colony amidst the freedom struggle in the year 1910. Javed a muslim boy falls in love with a Aaradhana punjabi girl and their story begins to flourish but does it reach to its destiny..!!
Second story takes you to 1960 era where an aspiring music director Govind falls in love with a successful actress Rukhsar.
The third and the last story take place in recent times in 2012 in England where love sparks between Radha and Krissh.
Kunal has splendidly ended each story with no inter linking of stories. Lead characters have no idea that they have met in past.
Sets created to depict different eras by Muneesh Sappel (production designer) are delighting and manage to catch the glimpse of the particular era.
Sajid Ali and Wajid Ali are the music directors of Teri Meri Kahani. Songs have already been a hit among audience, especially the Mukhtasar sung by Wajid will leave with you out of the theatre. Other songs of the film Jabse Mere Dil Ko Uff, Allah Jaane and Humse Pyaar Karle Tu are decent as well.
Like we have seen before Shahid is not much of a versatile actor (except Kaminey) and in TMK he overdoes some of his part of 1910 and 1960. However, he plays the role of Krish of present day splendidly.
Priyanka is great in all her roles and manages to pull three different characters.
Prachi and Neha in their cameo role had not much to do but their acting is decent.
It has been four years that Kunal Kohli has directed any film. His previous venture (Thoda Pyar Thoda Magic) had been a flop. This year he wants to change his fate with TMK by depicting '3 times a love story'.
To know whether love wins over the destiny or their love stories remain incomplete, go see TMK.
Teri Meri Kahani is made on a budget of around Rs. 30 Crores.