Loveraj conquers Everest with focus on cleaning
New Delhi, Tue, 19 Jun 2012
NI Wire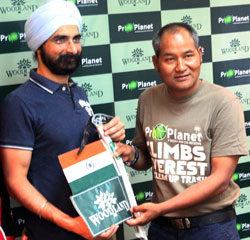 Loveraj Singh Dharmshaktu has become the first Indian to conquer Mt Everest for the fourth time. He achieved this feet during his expedition 'ProPlanet Climbs Everest'. The campaign was focused on making awareness regarding climbing and cleaning during expeditions. The campaign is relevant as there are reports of huge garbage on Everest.
For his mountaineering efforts Loveraj Singh Dharmshaktu has been honored with the Tenzing Norgay National Adventure Award in 2003. In his more than two decade long career, he has conquered 38 peaks that include peaks like Kanchenjunga (8,586 mts), Everest, Nandakot (5,269 mts), and others. So it can be said that climbing mountains is a passion for Loveraj Singh Dharmshaktu.
Loveraj Singh Dharmshaktu believes that getting accustomed to Everest is very difficult even for a veteran climber as every time it is a different situation due to weather conditions and shifting terrain. He further added that mountain calls you again but no one can say mountain his home. Before, he has led the team of some well-known Everest climbers.
Loveraj Singh Dharmshaktu says that his mission was focused on disseminating awareness about cleanliness as he is concerned with climbers leaving their garbage and baggage behind making Everest a high altitude dumping ground. He and his team members put an effort to clean the garbage. He said that lackadaisical attitude of some climbers stealing the beauty of magnificent Everest.
Dharamshaktu further revealed his future plans.
LATEST IMAGES

MORE...
Social bookmark this page
Post comments:

reena kaushal dharmshaktu
June 22, 2012 at 6:12 PM