MI vs RCB: Sachin to face Murali after a long time while Gayle meets Malinga
New Delhi, Wed, 09 May 2012
NI Wire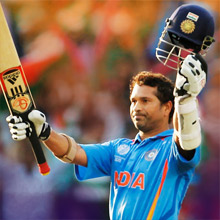 It will be years after which the best batsmen of the world Sachin Tendulkar will be facing the best bowler of the world Muttiah Muralitharan once again but in a very different format, when Mumbai Indians takes on Royal Challengers Bangalore today.
On the other hand Chris Gayle will face Malinga for the first time in this year's IPL. A lot depends on this match for RCB as if they went on to loose they would be in a very tight place.
RCB will be hoping that their big guns Gayle, Dilshan, de Villiers, Kohli, Murali and Zaheer click and help them win while Mumbai will rely on Tendulkar, Rohit Sharma, Malinga, Rayudu and Pollard for their win.
54th match of IPL between the two teams will be played in Wankhede stadium of Mumbai from 8 pm onwards. MI will be facing RCB for the first time in this year's IPL.
Mumbai Indians are at 3rd position with 14 points while Royal Challengers Bangalore are at 7th position with 11 points.
Mumbai Indians Team:
Harbhajan Singh, AN Ahmed, Amitoze Singh, AC Blizzard, YS Chahal, JEC Franklin, HH Gibbs, DJ Jacobs, KD Karthik, Kuldeep Yadav, DS Kulkarni, RE Levi, CJ McKay, SL Malinga, SH Marathe, SS Nayak, PP Ojha, MM Patel, NLTC Perera, RJ Peterson, KA Pollard, AT Rayudu, JN Shah, RG Sharma, R Shukla, RP Singh, DR Smith, TL Suman, P Suyal, AP Tare, SR Tendulkar, AV Wankhade, SA Yadav
Royal Challengers Bangalore Team:
DL Vettori, MA Agarwal, KP Appanna, KB Arun Karthik, RR Bhatkal, AB de Villiers, TM Dilshan, CM Gautam, CH Gayle, M Kaif, AA Kazi, Z Khan, V Kohli, CK Langeveldt, AB McDonald, A Mithun, M Muralitharan, KK Nair, DP Nannes, R Ninan, P Parameswaran, HV Patel, AUK Pathan, LA Pomersbach, CA Pujara, RR Rossouw, J Syed Mohammad, S Thiyagarajan, SS Tiwary, R Vinay Kumar, VH Zol
LATEST IMAGES

MORE...
Social bookmark this page
Post comments: