Advani reveals, people are disappoint with BJP
New Delhi, Thu, 31 May 2012
NI Wire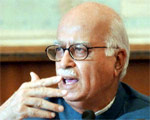 Veteran BJP leader Lal Krishna Advani has said that people are not only angry with UPA government but they are also disappointed with the BJP. He has said that there is a need for introspection of BJP so that it can win the confidence of people.
Adavni who is one of the founders of party and among India's better-known parliamentarians, his remarks could unleash many eyebrows among the party leaders. His remarks have come in light just after an internal crisis surfaced at Mumbai party meeting.
Advani admitted that BJP is ruling well in many states and it has excellent leadership like Sushma Swaraj and Arun Jaitley in Lok sabha and Rajya Sabha.
He said that once when journalist attack the UPA government for its series of corruption charges, it also regret that BJP lead NDA alliance is nor rising on the occasion.
Advani accept that in his view they are not wrong as they are reflecting the public opinion.
Advani criticizes the way in which it handled the situations rises in Uttar Pradesh election and it welcomed BSP ministers who were removed by Mayavati on charge of corruption. He also raised question marks on the inept handling the situations of Jharkhand and Karnataka. According to Advani, all the sort of things has weakens the party's commitment and campaign against the corruption.
(With inputs from IANS)
LATEST IMAGES

MORE...
Social bookmark this page
Post comments: