CSK vs KKR: Dhoni's Super Kings will look for revenge against Gambhir's Knights
New Delhi, Mon, 14 May 2012
NI Wire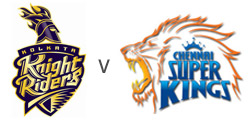 As the competition for last four is on its climax all team are trying their best to get these spots. And the same will be seen in this match between Kolkata Knight Riders and Chennai Super Kings.
In their previous encounter KKR emerged as winner by 5 wickets and will look for the same result in this match while Chennai will want to return the favor back. This win will help both teams in their cause of climbing to the last four spot.
While Kolkata has performed well through put the tournament CSK had an unsteady tournament but still some how they are on the race.
Gambhir, Kallis, McCullum, Lee, Yusuf, Shakib all will pour their heart out to win this match as they have 2 more two go after this and it looks like every thing will depend on run rate. While Dhoni, Ashwin, du Plessis, Jadeja, Morkel, Hilfenhaus and Raina will give their best to win for their side.
The 63rd match of IPL will be played in Eden Gardens of Kolkata from 8 pm.
Kolkata Knight Riders Team:
G Gambhir, S Ladda, L Balaji, R Bhatia, MS Bisla, DB Das, M de Lange, BJ Haddin, Iqbal Abdulla, CS Jani, JH Kallis, B Lee, BB McCullum, EJG Morgan, SP Narine, YK Pathan, JL Pattinson, SV Samson, PJ Sangwan, I Saxena, Shami Ahmed, Shakib Al Hasan, LR Shukla, RN ten Doeschate, MK Tiwary, JD Unadkat
Chennai Super Kings Team:
MS Dhoni, S Anirudha, R Ashwin, S Badrinath, GJ Bailey, DE Bollinger, DJ Bravo, F du Plessis, BW Hilfenhaus, MEK Hussey, RA Jadeja, SB Jakati, Joginder Sharma, S Randiv, KMDN Kulasekara, VY Mahesh, JA Morkel, A Mukund, SK Raina, WP Saha, SB Styris, S Tyagi, K Vasudevadas, G Vignesh, M Vijay
LATEST IMAGES

MORE...
Social bookmark this page
Post comments: