Mamata triggers early Lok Sabha election debates
Kolkata/New Delhi, Sat, 12 May 2012
NI Wire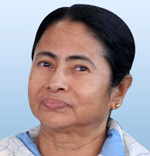 Trinamool Congress (TMC) chief and West Bengal Chief Minister Mamata Banerjee has triggered early poll debates by reportedly acknowledging her partymen that she has got information from Centre that a political party has held a meeting in Delhi for mulling advance Lok Sabha poll before completing the five year term to United Progressive Alliance (UPA) government.
According to sources, Mamata Banerjee, whose party is also an ally in UPA government has told her party members to be prepared for next Lok Sabha election before the scheduled date, as she has got information that a political party in Delhi had convened a meeting for discussing over the possibility of mid-term Lok Sabha election.
"I have got the information. I am not going into details as to who were at the meeting. They deliberated on advancing the Lok Sabha election to 2013," said Mamata to her party members.
However, she also added that her information may not be correct, but she has directed to be prepare for early polls as it may happen any day, any time, sources added.
Her comment on early polls has triggered a debate and opposition party Bhartiya Janta Party (BJP) has got an opportunity to attack on ruling UPA government.
BJP spokesperson Shahnawaz Hussain said, "It is natural that the Manmohan Singh government has become a burden for the nation today. It will be good if Mamata Banerjee relieves the nation from this government. According to her, it is likely to happen in 2013, but I hope that it happens in 2012 itself, because if this government lasts for another minute, it wouldn't be right for this nation."
However, Congress Party, the largest party in UPA government has ruled out this speculation stating that UPA government will complete its full term and election will be held at its scheduled date.
--With Agencies inputs--
LATEST IMAGES

MORE...
Social bookmark this page
Post comments: