Budget 2012-13: What became cheaper and what got costlier
New Delhi, Fri, 16 Mar 2012
NI Wire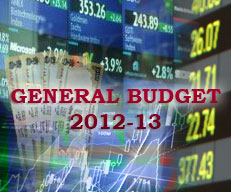 Pranab Mukherjee, announced the list of the commodities for which the price will go high and low while presenting the Union Budget 2012-2013. Finance minister announced the hike of duty on large cars and gold while import of silver has been exempted from any duty.
Commodities that will go cheaper
Natural gas
Uranium for generation of electricity
Cinema and films
LCDs and LEDs
School education
Iron ore equipment
Imported bicycles
Medicines for treating cancer and HIV Processed food
Housing society charges
LPG
Solar power lamps
Mobile phones
Iodised salt
Soya products
Match boxes
LED bulbs
Commodities that will go costlier
Gold jeweller
Platinum
Diamond
ACs
Refrigerator
Air travel
Telephone bill
Luxury cars
Cigarettes and Beed
Branded retail garments
SUVs
Handrolled beedis
Emerald
Ruby
LATEST IMAGES

MORE...
Social bookmark this page
Post comments: