DGP BB Mohanty accused of helping his son flee, Rajasthan police sends an arrest team
Bhubaneswar, Tue, 22 May 2007
NI Wire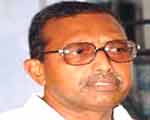 May 22: The Rajasthan government has decided to send a police team to arrest Orissa Director General of Police DGP, Bidya Bhusan Mohanty. Mohanty was supposed to present himself at a Jaipur court yesterday as per Supreme Court'??s orders but failed to do so. Owing to his negligence and undermining the orders of SC, the Rajasthan police is expected to arrest him in Orissa today.

Earlier an FIR was lodged against BB Mohanty by Jaipur police in connection with the disappearance of his son Bitti Mohanty, the convict in the German tourist rape case who went missing from Dec 4, 2006.

Bitti Mohanty was convicted of raping a 26 year old German tourist in Jaipur in March 2006. The Jaipur court sentenced him for a seven-year imprisonment. However, he was allowed for a 15-day parole to meet his ailing mother on Nov 20, the guarantor being his father. But he failed to return and now the Rajasthan police has filed a case against the convict'??s father B.B.Mohanty for allegedly helping his son'??s escape from custody.

The DGP is constantly denying these charges and has already been questioned by Rajasthan police. Though Rajasthan police had earlier tried to arrest Mohanty but were unsuccessful as Orissa High Court had granted a six weeks time to surrender to the Rajasthan court.

However, Rajasthan Police appealed in the Supreme Court against the decision of Orissa High Court. The SC after hearing only allowed another 6 weeks to surrender the convict and appear before Rajasthan Court.

As the time period finished yesterday and Bidya Bhusan Mohanty has not surrendered in the court, the Rajasthan Police has finally decided to send a police team to Orissa after seeking non-bailable warrants.

Meanwhile, the Rajasthan police have filed criminal case against the DGP under IPC 216 and 130 for allegedly helping a criminal in escaping from custody.

Earlier today morning DGP Mohanty had told media persons that the SC has not directed him to surrender and hence no one can take any action against him as he was on the protection of the SC.

"I cannot possibly be arrested on Tuesday as Jaipur court did not issue an arrest warrant," he responds to the question of media persons. Jaipur Police after obtaining order from the court will move to Orissa for further action.

The Chief Minister of Orissa Naveen Patnaik said today that law will take its course and non will be spared. '??Orissa government will cooperate in every respect'??, he said.

null
null
LATEST IMAGES
null
null
MORE...
Social bookmark this page
Post comments: