Men in Blue to face wounded Aussies, sturdy challenge ahead of Dhoni
New Delhi, Sat, 29 Sep 2007
NI Wire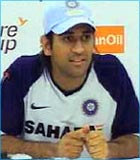 SEP 29: Cloud clears over new ICC rules
The Men in Blue start afresh after their recentTwenty20 World Cup victory to take on mighty Aussies, as the Australians will come hard on them with all cylinders firing after losing out in the semis of Twenty20, in the first day-night One Day International of the seven match series for the Future Cup at the M Chinnaswamy stadium in Banglore later in the day.
Newly appointed Indian ODI captain Mahendra Singh Dhoni is under no pressure of leading the Team India in a 50-over match after a successful stint in the T20 format. Indian team is fully charged with troika of Indian cricket Sachin Tendulkar, Rahul Dravid and Sourav Ganguly returning to strengthen the team by their vast experience, as the 50- over format requires a blend of youth and experience.
There is a buzz in the air that how Dhoni will lead the side under the shadow of three former captains. He has a daunting task and an added pressure in front of him. On the contrary, Dhoni felt it would help him. "If you think about the experience that they have, having played over 300 ODIs each, it is amazing. There will be tough situations in this series and I'm glad I'll be able to turn towards them and Yuvraj Singh is also there. I don't mind asking for suggestions."
Team India will be back on the field in less than five days, after cornering Tweny20 glory in South Africa, an exactly a week later to fight it out again with the Aussies but in a different platform and format of the game.

NEW ODI RULES IMPLEMENTS FROM TODAYS MATCH
The match will be played under the new rules framed by the ICC for the One Day International. The rules, which include allowing a third fielder outside the circle during the second or third Power plays, a free hit in case of a front-foot no ball and a mandatory ball change after 35-overs.
All these rules will surely add flavour in this form of the game and also going to put some extra pressure on both the captains, as the rules will churn out their mind to chart out new strategies according to the newly laid rules. Bowlers will once again come in to scanner due to new free-hit rule with every front-foot no ball. They have to land their foot right as it might lead their team in to big trouble, specially in the dying overs and in the crunch situations.
Australian captain Ricky Ponting, who is a doubtful starter for the opening match because of an injury, sparked off a debate after landing in India by claiming that only his side could be called world champion as it had the ODI and Test title to its credit.
The verbal volleys did not gone down too well with the Indian camp too, as flamboyant pacer S Sreesanth and Robin Uthappa reacted sharply to Ponting's assertions. The war of words has only added more spice to the series, which was already a much-anticipated affair.
Although Ponting is in serious doubt for the series opener due to a hamstring strain, the Aussies have asserted that they have their plans ready to tackle the Indians.
Vice-captain Adam Gilchrist, who will lead the side in Ponting's absence, acknowledged that the Men in Blue were brilliant in their Twenty20 campaign but was quick to add that 50-over was a different ball-game altogether.
The Aussies had enough experience of dealing with the pressures of being World champions; the newly crowned Indians would find it hard to live up to the gigantic expectations in front of a passionate home crowd.
" India is number one in the Twenty20 format, there is no denying that. The expectation that comes with that is pretty immense," he said.
Curator Narayan Raju has promised a "lively" pitch and both the sides have the attack to exploit the conditions.
Zaheer Khan and S Sreesanth will be ready to demolish the Aussie line-up with the new ball, the visitors would be hoping that their pace spearhead Brett Lee will come out all guns blazing. Irfan Pathan, who returns to the Indian fold and R P Singh add punch to the attack after their brilliant show during the Twenty20 World Cup.
Both sides seem to be evenly matched on the batting front, but the Australians looked vulnerable in the Twenty20 World Cup with their middle-order mainstay Michael Clarke being badly out of form.
INDIA (SQUAD): MS Dhoni (C), Rahul Dravid, Gautam Gambhir, Sourav Ganguly, Harbhajan Singh, Dinesh Kaarthick, Zaheer Khan, Irfan Pathan, Rohit Sharma, Ramesh Powar, Rudra Pratap Singh, S Sreesanth, Sachin Tendulkar, Robin Uthappa, Yuvraj Singh.
AUSTRALIA (SQUAD): Ricky Ponting (C), Adam Gilchrist, Nathan Bracken, Stuart Clark, Michael Clarke, Brad Haddin, Matthew Hayden, Ben Hilfenhaus, Brad Hodge, Brad Hogg, James Hopes, Mitchell Johnson, Brett Lee, Andrew Symonds, Adam Voges, Michael Hussey.
LATEST IMAGES

MORE...
Social bookmark this page
Post comments: