Lok Sabha passes interim '09 rail budget



NI Wire, Fri, 20 Feb 2009
Lok Sabha on Thursday passed the interim rail budget prior to general elections amid chaos. Union Railway Minister, Lalu Prasad Yadav, on February 13 had presented the budget highlighting the achievements of Indian railways under UPA regime.
HDFC Bank declared 'Best Local Bank' in India



NI Wire, Wed, 18 Feb 2009
HDFC Bank, one of India's premier banks, has been declared the 'Best Local Bank' in India in Euromoney's Annual Private Banking Survey. The Survey also recognized HDFC Bank
Jet Airways, Malaysia Airlines sign code-share pact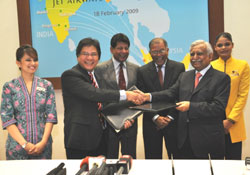 NI Wire, Wed, 18 Feb 2009
Jet Airways, India's premier international airline and Malaysia Airlines have signed a code share and network-wide reciprocal Frequent Flyer partnership to provide its customers with enhanced travel connectivity and privileges.
34% hike in defence outlay



NI Wire, Tue, 17 Feb 2009
Ahead of the parliamentary polls in April-May, the government on Monday announced its interim budget of Rs 953,231 crore proposed expenditure. However, one of the highlights of the tabled allocation is the whooping 34% hike in defence outlay.
Asia-Pacific leaders meet on economic crisis



NI Wire, Mon, 16 Feb 2009
In one of the high-level regional forums on the ongoing global economic crisis, government officials, ministers of labour and finance, senior UN officials, representatives of workers and employers bodies from throughout Asia-Pacific regions
More Stories