Largest gathering to protest military regime in Myanmar
New Delhi, Mon, 24 Sep 2007
NI Wire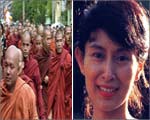 Sep 24: Largest gathering of Buddhist Monks, marched through the street of Yangon. It is the largest crowd of 100,000 monks, since a failed 1988 pro-democracy uprising.
At one point, the march passed by the old campus of Rangoon University, a hotbed of protest in past times. Students were seen joining in.
The 1988 uprising was brutally crushed by the military. This was a demonstration and protest against Myanmar's military regime since two decades.
The Buddhist monk and the protester were reported to have protested in very peaceful manner, with all through their walks chanting prayers.
Some thousands of protesters walked through the city centre and also passed the military War office, but no action were taken by the soldiers watching the peaceful protest from inside the war office compound.
While other group walked through the Peace Pagoda, a site of major religious school.
Aung San Su Kyi has welcomed the protesters .She is in house arrest since 12 years.
Josef Silverstein, a political scientist and author of several books on Myanmar said that China is eager to bring peace in Myanmar as the unrest in the country will create a problem.
He said " China is very eager to have a peaceful Burma in order to complete roads and railroads, to develop mines and finish assimilating the country under its economic control," Silverstein said.
The inaction of the military government against the protester is also seen as a pressure from China.
Myanmar is in military regime since decades, facing economic crisis and under international pressure to restore democracy.
LATEST IMAGES

MORE...
Social bookmark this page
Post comments: