Rahul, announced Gen-Sec of AICC, gear to future PM Post
New Delhi, Mon, 24 Sep 2007
NI Wire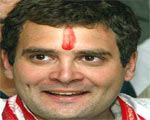 Sep 24: Today in a reshuffle of the party secretariat of the Congress party Rahul Gandhi MP from Amethi was announced the general secretary of the All India Congress Committee. Rahul Gandhi who was till now leading congress in the Uttar Pradesh Assembly elections was not willing to join party cadre but today he was formally inducted in the party as General Secretary of AICC. Last year he gave indications that now he is willing to play an active role in the organization.
Sensing the mid term polls the party started to streamline the organization. By the entry of Rahul Gandhi at a significant post will give a new look to the party. It can also cure various problems of the party. He has been given the charge of Youth Congress and National Students Union of India.
Among other general secretaries are Mohsina Kidwai and Prithi raj Chauhan.
Secretaries are MP Priya Dutt and Jiten Prasad.
Mr. Manmohan Singh, Mrs. Sonia Gandhi, External affairs minister "Pranab Mukherji, HRD minister Arjun Singh, defence minister Mr. A. K. Antony, Ashok Gehlot Janardhan Reddy, Shivraj Patil etc have been retained in Congress Working Committee.
Though Rahul's leadership in the party campaign in UP assembly polls has not been very effective still
AICC General Secretary Ashok Gehlot called this as a blessing in disguise.
This appointment has been done in the wake of the demands from the party cadre to induct Rahul as he is the potential prime Minister and can inspire the party's rank and file. His appointment as party's General Secretary will give boost to the party in the coming elections which looks to its allies for the survival and is much pressurized by its left allies.
LATEST IMAGES

MORE...
Social bookmark this page
Post comments:

sharif patel
July 29, 2008 at 12:00 AM

sawpnil saxena (distic genral secratry N.S.U.I.)
December 8, 2007 at 12:00 AM