Jammu civil society appeals for communal harmony
Jammu, Fri, 01 Aug 2008
NI Wire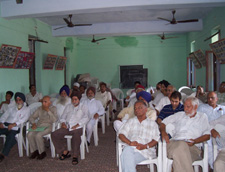 Seventy prominent citizens of Jammu belonging to different walks of life, in a meeting convened here by social activist Balraj Puri, appealed to the people of all religions of Jammu to unitedly fight for their common cause and maintain communal harmony whatever be the provocations. The meeting was presided over by Sardar Balbir Singh, President Social Awareness Front.
In his introductory remarks Puri dealt with long term, short term and immediate causes of the discontent of Jammu. Over centralised system, he added, was the basic cause of regional tensions. He suggested a federal and decentralised system to reconcile interests and aspirations of all ethnic and religious communities.
The way, the state government bungled on the issue of land transfer to the Shri Amarnath Shrine Board, he said, first created massive mass upsurge in Kashmir, followed by similar turmoil in Jammu. Death of Kuldip Verma and the manner in which his dead body was manhandled and dishonoured by the police further enraged the sentiments of people and resulted in a situation which had gone beyond the control of any political party, he added.
He called upon the political leaders and intellectuals, of the state to give serious attention to all the three set of causes responsible for the present situation.
The group decided to meet periodically to take stock of the developing situation and hold mohalla wise meetings of the like minded people. The meeting started with a condolence resolution over the tragic death of Kuldip Verma and offer two minutes of silent prayer for the peace of the departed soul.
Balbir Singh, in his presidential remarks said that ultimately all problems have to be resolved through dialogue, between political parties, interest group and finally with the government.
LATEST IMAGES

MORE...
Social bookmark this page
Post comments: