Sethu Samudram storm: no signs of loosing strength
Chennai, Thu, 20 Sep 2007
NI Wire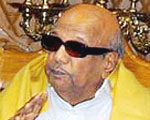 Sep 20: Somedays ago Tamil Nadu Chief Minister's remarks about Hindu god Ram created storm in the country over the issue of existence of Ram. He had said that Ram is a mythological hero and does not have any historical existence and there is no proof that the bridge was constructed by Him. He expressed his commitment to go ahead with the Sethu Samudram project.
Provoked by such comments, some people attacked the house of his daughter Selvi in Bangalore. His daughter was not present in the house at the time of attack. In the meantime 22 persons have been detained in connection with the incident of burning the bus and attack on the house of Selvi.
Thursday morning BJP leader LK Advani who was at Trinelveli, in Tamil Nadu asked TN CM to apologize and withdraw his remarks on Lord Ram and Ram Sethu. Advani said that there is civil war going on in UPA. Earlier Left destabilized the government now DMK is the second force destabilizing it.
In reaction to the attack on the house of his daughter in Bangalore, Karunanidhi said that Ram worshippers have reflected their culture and he welcomes such opposition from Sangh Quarters saying, " I treat them as dust'. He reiterated what he said earlier saying, "I reiterate what I said earlier that there is no historical evidence that Ram or Ram Sethu existed."
War of words reached its intense phase when TN CM Karunanidhi quickly replying to the appeal of Advani of taking his remarks back called Ram a 'drunkard' and a 'big lie'.
In his quick reaction to the appeal he refused to withdraw his statement and said, "Ram is as big a lie as big the truth of the existence of the Ganges and the Himalayas".
He also threw a challenge before Advani to get into debate with him over Ramayana. Meanwhile security has been provided to the house of his daughter and patrolling is being done on the Hosur road where the incident of burning the bus of Tamil Nadu transportation took place to ensure the safety of the passengers. Police is investigating if the incident is related to the statements of TN CM.
LATEST IMAGES

MORE...
Social bookmark this page
Post comments:

Maran
September 21, 2007 at 12:00 AM

raghunandan
September 21, 2007 at 12:00 AM

nitin
September 21, 2007 at 12:00 AM

Praveen
September 21, 2007 at 12:00 AM

Arun
September 20, 2007 at 12:00 AM

Rohid
September 20, 2007 at 12:00 AM

Kusuma
September 20, 2007 at 12:00 AM

Surya
September 20, 2007 at 12:00 AM