4 killed and 16 injured in Nandigram violence on Sunday
Delhi, Mon, 30 Apr 2007
NI Wire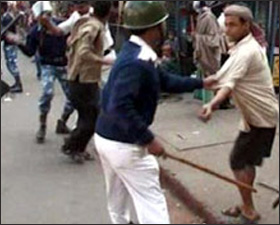 April 30: Over past few months Nandigram has served as a battle ground where incidents of violence have been repeated time and again. On previous Sunday, violence erupted in the region after some politically prompted cadres, reportedly from CPM, attacked to capture the territory. The henchmen were reported as carrying firearms and belonging to eastern region of Midnapore. However the local population resisted the move and in retaliation several people got injured.

There was a severe gun battle, which broke out between the workers of CPM and the Trinamool Congress-led Krishi Bachaoo Committee. According to the reports at least four persons were killed and over 16 other got injured in the mishap. Out of the 16 injured, eight, were stated to be in critical conditions. Among the killed two local people, Dilip Mondal and Mahitosh Koran, were killed on the spot and two others, Pintu and Burman succumbed to their injuries in the hospital.

The police was not able to access the affected villages and reach on time as large parts of the area continued to remain inaccessible with roads dug up and culverts and bridges damaged. Moves initiated by local authorities to restore normal conditions with the support of political parties fell flat as the opposition refused to attend the all-party meeting.

For last few days the situation in Nandigram, but on Sunday the situation it got critical and resulted in this the first major attack of violence after the police firing on March 14, in which 14 persons were killed. During the clashes, houses were ransacked and burnt down, women and children were beaten up.

Both TMC leader Mamata Banerjee and Congress leader Somen Mitra held the CPM leadership responsible for the disturbances in Nandigram.

Mitra said that a delegation was supposed to meet President A.P.J Kalam and also Sonia Gandhi to seek Centreā??s intervention for the protection of underprivileged, at Nandigram and other placesā??. He also accused Chief Minister Buddhadeb Bhattacharjee of diabolic interventions of initiating peace talks and at the same time attacking poor farmers in Nandigram.

LATEST IMAGES

MORE...
Social bookmark this page
Post comments: