Mass sacking of police personnel by Uttar Pradesh Govt.
New Delhi, Wed, 12 Sep 2007
NI Wire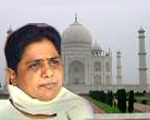 Sep 12: In a huge level sacking of police personnel alleging corruption in police recruitment during Mulayam Singh Yadav government, the ruling BSP party in Uttar Pradesh suspended around 6,500 police personnel including 12 senior IPS officers, 9 DIG and one IG rank holder.
Ever since the BSP supremo and Chief Minister Mayawati came into power there is a massive drive of eliminating corruption in the state and this is a part of the process. The latest decission came on the basis of the inquiry committee report headed by Additional Director General Shailja Kant Misra.
The government has also directed to take action against the recruitment board who were involved in recruiting 22,000 police constable and high rank officers.
Principal Home Secretary J N Chamber on Tuesday while announcing the order of the government also clear their intend to take disciplinary action against the officers who chaired the recruitment boards for the Provincial Armed Constabulary and Civil Police constables in the state.
Reportedly the recruitment was done during the 2004-06 Samajwadi Party rule. An inquiry was ordered after getting signs of irregularities in 14 out of the 55 state recruitment centres. That means many others are yet to feel the heat after the end of inquiry in other centres.
The inquiry committee has found forge certificates and documents among many of the suspended officers who were undergoing training prior to the suspension order. Government however is planning for fresh recruitments within six months.
In the meantime the state Director-General of Police Vikram Singh has ordered to lodge FIR against all officers of the recruitment board. The step though termed as a political motive by the opposition but a very bold initiative by the Mayawati government to eliminate corruption. To be precise as now in most of the states it is political patronage that termed bureaucracy into corruption the decision has come in a very right time.
However, as corruption and scandal is a routine output of our present system it is interesting to see whether it's just another political game till the other to come or certainly a step routing out the Corruption.
LATEST IMAGES

MORE...
Social bookmark this page
Post comments: