No historic welcome, Sharif deported to Saudi Arabia
New Delhi, Mon, 10 Sep 2007
NI Wire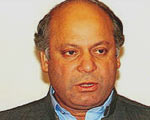 Sep 10: Ending all speculations over Musharraf's action against exiled former Prime Minister Nawaz Sharif's return, the military authority today forcefully sent back the Pakistan Muslim League party leader to Jeddah in Saudi Arabia.
Just hours after his landing in Islamabad, Mr Sharif was asked to submit his passport which he did not and then armed forces arrested him and sent him to Jeddah. The Saudi government has not also objected over Sharif's return. But party workers in different parts of Pakistan are resisting and protesting against Musharraf rule.
In the meantime the European Union has slammed Musharraf's rule and said that Sharif should be allowed to defend himself in the court if there is legal questions against him.
EU spokeswoman Christiane Hohmann told reporters that Pakistan government should respect the ruling by the Supreme Court that Sharif should be allowed to return to Pakistan.
It was really a challenge for the military ruler to allow Sharif to stay in the country in such adverse condition in which the General is facing protest over different issues. Even now Pervez Musharraf may face action from the Supreme Court who had permitted Sharif to return and contest election which is scheduled to take place in coming months.
As per media reports, Sharif was given two options either to face arrest that the government had issued against him or to deport back to Saudi Arabia. Mr. Sharif though offered to surrender but he was later sent back to an unknown place by a helicopter and then to Jeddah.
Considering the political situation the administration has arranged tight security in all major cities of the country to maintain law and order. On Sunday night the administration had ordered to close all roads connecting to Islamabad airport in order to prevent Sharif's supporters for reaching him.
Earlier as per the statement of Pakistan Prime Minister Shaukat Aziz, "the government will act according law in the case of a come-back by former Prime Minister and they will be treated according to the law". But here it seems that the military government has undermined the rule of Pakistan Supreme Court.
Again it seems that there was no other option for General Musharraf as Sharif's return as he was committed to campaign against the dictatorship of Musharraf. But still the general have to face the consequence from the point of view of the Supreme Court.
It will be interesting to see the Supreme Court's reaction that it may deliver tomorrow. Meanwhile the PML party has asked Supreme Court's intervention and the party leaders have termed it as an unfortunate day for Pakistan politics.
LATEST IMAGES

MORE...
Social bookmark this page
Post comments: