Will Lankan bring the glory to Asia '?? The World Cup saga
Delhi, Sat, 28 Apr 2007
Nadeem Bhat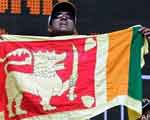 April 28: The moment for which the whole cricket loving world was waiting for has finally arrived. It is '??the world cup final'?? and in Bridgetown today the two champions will clash for the titles. The more versatile Sri Lankan side which has shown the world that their being in the finals is no surprise will take on the invincible Aussies. The Aussies at the moment seems committed to take home the title and convert it into a hat trick.

So far in this tournament, no team has come closer to even offer a challenge to Aussies. The defending champions have plundered their opposition and it looks as if it always were a one sided affair. The scene is that Australia has carried its unbeaten streak at the World Cup, in 28 different matches, exhibiting their full domination at the international level for almost a decade now. Their recent rivals Proteas, who were leading prior to world cup, got a serious hammering. Australia played against South Africa twice in this tournament and came out as victorious. Importantly they left both a mark and a message by simply out beating their contenders.

``Whenever we've got our noses in front, we haven't just sat back and waited for things to happen. We've put our foot down and really gone in for the kill and finished teams off,'' Australia captain Ricky Ponting said, Friday.

Sri Lanka, right from the beginning of the tournament has been the only team to a impose threat to Aussies. However a good total on the board will be needed by the Lankans to put Australia under some pressure. They have not yet faced a challenging total in this tournament and the plan must be of taking early wickets if in the field.

Sri Lanka with their front-line bowlers Chaminda Vaas, Muttiah Muralitharan and Lasith Malinga, geared up for Saturday's match can make a difference. With the magic of Muttiah Muralitharan the Aussies need to find a loophole. The Lankan champion is considered as a deadly opponent and the best in the business and when it is his day the best of the batsmen dwindle on the crease. The Lankan victory depends a great lot on Murli'??s magic as his fingers have rolled in great games and in great many times.

Till now Gilchrist and Sangakara have not shined to their full. Gilchrist opens the Australian innings and Sangakara bats at three. Both men have performed moderately with the bat in the Caribbean - Sangakkara scoring 296 and Gilchrist 304. They are considered as great match players and have proven so in the past. Cricket fans will be expecting a scintillating performance from the champions as it does not get bigger than this.

With all said it will be meaningless to ignore the efforts of players like Mathew Hayden, Ponting, Clarke and Mcgrath who displayed their worth of being champions of the game for Aussies. For Sri Lanka Mahela, Jayasuriya, Dilshan and Malinga have been equally fruitful. They are also not in a mood to be lenient. All this is obvious from the thirst and amount of hard work they have gone through, during the seven week long tournament to re-achieve their moment of glory.

Rumors are that Sri Lanka's Farveez Maharoof might replace Dilhara Fernando. The struggling fast bowler was twice warned for running on the pitch against New Zealand and bowled five overs for 45 runs.

Australian Lineup: Australia (likely): Ricky Ponting (captain), Matthew Hayden, Adam Gilchrist, Michael Clarke, Andrew Symonds, Michael Hussey, Shane Watson, Brad Hogg, Nathan Bracken, Shaun Tait, Glenn McGrath.

Sri Lankan Lineup: Sri Lanka (likely): Sanath Jayasuriya, Upul Tharanga, Kumar Sangakkara, Mahela Jayawardene (captain), Chamara Silva, Tillekeratne Dilshan, Russel Arnold, Chaminda Vaas, Lasith Malinga, Muttiah Muralitharan, Farveez Maharoof.

Umpires: Aleem Dar, Pakistan and Steve Bucknor, West Indies.

TV umpire: Rudi Koertzen, South Africa.

Match referee: Jeff Crowe, New Zealand.

LATEST IMAGES

MORE...
Social bookmark this page
Post comments: