Bunkers No more; Srinagar back to peace
Delhi, Fri, 27 Apr 2007
NI Wire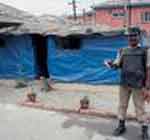 April 27: If Prime Minister Manmohan Singh'??s recent statement, that withdrawal of forces from Jammu and Kashmir depends on the degree of peace, is to be trusted then the most violent part, the picturesque summer capital of Jammu and Kashmir is now peaceful.

Central Reserve Police Force CRPF, have started with a positive note and started pulling down the military bunkers. The bunkers, which remained as landmarks in the state from last 18 years, are being demolished. One of the oldest bunkers in front of the biggest mosque in the state, has been removed after occupying the space for most of the periods of insurgency.

One of the residents of the area Ishfaq Qalandhar expressed his feeling like this: '??It is such a relief'??.

CRPF IG Operations told media that they are going to follow the exercise in most parts of the old city, especially in and around the famous Dal Lake.

This is not the first time when people living in the vicinity of the bunkers have felt sighs of relief. Bunkers remained as main attraction for militant attacks throughout the insurgency periods and were continuously attacked before suicide bombings ands car blasts were carried down by the militants. '??Every time there was an attack on the bunker, we had to face the brunt of security forces. Now it is all over and it is quite a relief'??, said Ashiq Mukhdoomi, a resident of Nowhata. The areas in and around the grand mosque, also known as Jamia Masjid, remained the strong bastion of separatists and Hurriyat chairman Mirwaiz. They were among the most cherished ones.

Former Chief Minister Mufti Mohammad Saeed, who is visualized as the most prominent supporter of the phased withdrawal of armed forces from the state among pro-India politicians, might be a relieved man. The Indian PM assured him of thorough view on the issue, after constituting a committee to look into the matter. However, the committee is yet to come out with any recommendations. Manmohan Singh has reiterated and stands firm on the issue relating withdrawal of forces with the degree of violence.

As we can'??t relate removing of bunkers with withdrawal of armed forces, but the indication might be promising because it is going to happen in the most violent parts of Srinagar city.

LATEST IMAGES

MORE...
Social bookmark this page
Post comments: