Deadlock ends, Pak to reinstate Justice Chaudhry
New Delhi, Mon, 16 Mar 2009
NI Wire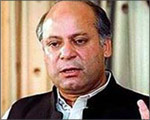 The political deadlock died out in Pakistan Monday morning with the PML-N chief Nawaz Sharif's decision calling off the long march following government's decision to reinstate all the sacked judges, including Supreme Court Chief Justice Iftikhar Muhammad Chaudhry.
Soon after the announcement of the government's decision, the jubilant Sharif addressing a huge public rally in Gujranwala on Monday morning welcomed the government's move and thanked the people of Pakistan and his supporters for bowing down the government, saying the long march is now a victory march.
"I thank you all from Karachi to Khyber for your love. You waited for us and today we are making this announcement in Gujranwala and this is being written in the golden letters in the history of Gujranwala. Like this, I am sure we will also solve other issues," said Sharif. The PML-N chief and former prime minister was on a long march along with his supporters for a mass sit-in outside the Parliament in Islamabad.
Sharif said the decision to call off the long march was made after consultations with Jamaat-e-Islami Ameer Qazi Hussain Ahmed, Pakistan Tehreek-e-Insaf chief Imran Khan and Supreme Court Bar Association (SCBA) president Ali Ahmed Kurd.
Earlier in the Monday morning Prime Minister Yousuf Raza Gilani announced the government's decision to reinstate Justice Chaudhry deposed by the then President Pervez Musharraf in 2007 emergency.
In a televised address to the nation Gilani said, "Chaudhry will assume the post of Chief Justice once current incumbent Abdul Hamid Dogar retires on the 21st of this month." He also directed provincial authorities to lift prohibitory orders banning rallies and protests imposed since Thursday with the lawyers' protest and opposition parties' long march to support lawyers.
"I assure that the government will file an appeal against the Supreme Court's order against Nawaz Sharif and Shahbaz Sharif. I also order all state government's to withdraw Section 144 and release all the lawyers and politicians arrested during the Long March," Gilani said in his televised address.
The government's decision came after a spate of meetings attended by Premier Gilani, President Zardari and the Army chief Gen Ashfaq Pervaiz Kayani to resolve the political standoff. The calls to Zardari and Sharif from UK and US, including Secretary of State Hillary Clinton, asking them to defuse a dangerous confrontation also played a major role.
President's spokesman Farhatullah Babar said that the decision to reinstate Chaudhry as chief justice of Pakistan was taken after consultation with the leaders of coalition parties.
Nearly two years after the appointment of Chaudhry as Chief Justice of Pakistan in May 2005, General Pervez Musharraf had suspended him as chief justice on March 9, 2007, after a spate of issues cropped up between them. Justice Chaudhry's suo moto action against several of the former military regime's actions had irked Musharraf.
Chaudhry was reinstated on the order of the Supreme Court on July 20, 2007 after countrywide protests, but eventually on Nov 3 same year Musharraf declared a state of emergency and sacked Chaudhry, and put him under house arrest.
The PPP government came into power through a general election in February 2008 with the support of PML-N. PML (N) later joined the coalition on promise by the Pakistan People's Party and its co-chairman, President Asif Ali Zardari to reinstate Justice Chaudhry and other sacked judges. Zardari reinstated most other judges but went back on his word over the reinstatement of Chaudhry as chief justice. This later enraged Nawaz and he pulled out his PML-N from the coalition. And now he along with his supporters and agitated lawyers resorted to long march demanding reinstatement of Iftikhar Muhammad Chaudhry as chief justice of Pakistan.
LATEST IMAGES

MORE...
Social bookmark this page
Post comments: