Government set up a panel against SMS technology misuse
New Delhi, Wed, 22 Aug 2007
NI Wire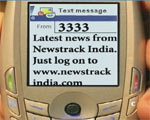 Aug 22: The government of India has set up a committee to check up the misuse of technology as now hackers are targeting to hack the mobile phone in terms of hacking SMSes and manipulating mobile numbers. Now the Department of Telecommunication has been about taking some serious actions against this cyber crime, officially confirmed.
"Using of somebody else's identity such as telephone number while communicating amounts to impersonification and forgery, which is a criminal offence and the person is liable for penal action," recommended enquiry committee.
The committee also recommended to strict vigilance on all the access control mechanism including SMSes providers in cases where application and content passes thought it. "Currently, SMSes are routed through application servers, SMS gateways, SMSCs and MSCs (Mobile Switching Centres). If the transfer protocol between SMS gateways and SMSCs is http-based, it can be prone to misuse because it's an open protocol," says Milind Pathak of Buongiorno, a mobile VAS player. Government has also blocked some websites, which were liable the manipulation of SMS numbers.
According to DoT, many complaints have been registered so far regarding fake SMSes from the real owner of the mobile with the name of the mobile user masking the +91 digits. Hackers change the header or content of SMSes by using hacking tools in the mid of SMSes passage way. A user can get an SMS from the banking company asked to confirm the detail of users' baking account. This message may seem harmless, but could be skit by a hacker and if users reply the answer may reach another number, most often overseas.
That's why the committee recommends blocking of level +91 -- SMSes received from overseas that doesn't have party address starting with +91. It has also recommended to strict vigilance to Short Message Service Centres of mobile operators if provided over the Internet.
Bharat Sanchar Nigam Ltd (BSNL), the biggest government firm of mobile and Internet service provider in India is taking steps to control illegal routing of international calls through local lines, according to communications minister of state Shakeel Ahmad.
LATEST IMAGES

MORE...
Social bookmark this page
Post comments: