Parliamentary committee wants reservation for SC, ST and OBC in higher judiciary
New Delhi, Sat, 18 Aug 2007
NI Wire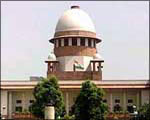 Aug 18: Parliamentary standing committee in a recommendation extended reservation for SC, ST and OBC in appointment of judges of high court and Supreme Court in the Judges Inquiry Bill.
The committee is headed by Sudarshan Nachiappan accused the higher judiciary system of denying post to competent person of the disadvantage group through a shrewd process of manipulation.
He substantiated his argument by quoting 1993 judgment of Supreme Court, "Even today there are complaints that generations of men from the same family or caste, community or religion, are being sponsored and initiated and appointed as judges, thereby creating a new theory of judicial relationship."
He justified by saying, "The nexus and manipulative judicial appointment have to be broken. Reservation in judiciary is the only answer."
The report is a step to end the "dubious distinction" among three organ of a state that is executive, legislative and judiciary. He argued if the two organs can give reservation then why not the higher judiciary.
Giving an account of 2002 Constitution Review report which says that out of 610 judges, not more than 20 belong to SC and ST.
The parliamentary Standing committee believes that judiciary too should reflect the people's aspirations and the committee said, "Only when candidates drawn from different sections of society are appointed as judges, they would understand the social flavor of the legislation passed by Parliament and State legislature".
The panel also recommended inclusion of non judicial member in National Judicial Council and the empowered committee which will be represented by the three organ of state will decide appointment as well as complaints against the judges.
This report holds importance amidst the controversy of extending reservation to OBC in centrally funded institution which has been deferred by Supreme Court.
LATEST IMAGES

MORE...
Social bookmark this page
Post comments: