Advani, everywhere
New Delhi, Mon, 09 Feb 2009
M Shamsur Rabb Khan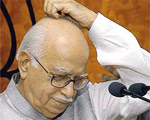 These days, whichever news website you open you find Advani's advertisement "Advani for PM" and "Strong, Prosperous and Secure India?" as if this 81-year-old man is too desperate to grab the gaddi of Delhi. His media publicity is too widespread, covering all leading dailies. Even Pakistan's leading newspaper, the Dawn also carries his advertisement! In the age that Advani has entered, our grandfathers retire for a peaceful living, or not remain so healthy to carry out household affairs, leave alone social service in public life. But Advani seems different: he seems fresh and energetic. And he does not even think about the Vanprastha Ashram, the last stage) of life as per the Hindu philosophy, hence he, like other old leaders of this country, has no plan to retire.
Power is such a lust that no one, like Advani, likes to desist the temptation of eschewing till life leaves the person. Political power is like an addiction to which politicians, including Advani want to be with. It is not that Advani has not been tried as administrator before. He was. As the Home Minister, he did not anything remarkable that the people should elevate him to be PM of this country. We should not forget, Advani was the Home Minister when Gujarat pogrom occurred and he did not do anything to stop it. As a head of state, logically speaking, how can people expect exclusive social service from an 80-plus year-old man? This is a crucial question. But then we have a history of older people ruling our country.
Old age politicians, like Advani, are not new in this country: traditionally, politicians have been perceived to be men of advanced age, like the patriarchs (grand fathers) of individual families, who would look after the household governance and who are respected due to their age and experience. In principle, lack of competition or a definite regulation and alien attitude towards Indian politics makes it one of the most unwanted jobs for the trained or educated professionals in the country. There is no lure for talented people in Indian politics. Hence politics finds place as the last resort only for those who have been failures in mainstream professions or businesses, or men with criminal background, or some social activists, or now some cine stars. Indian democracy provides a stark contrast between the average age profile of the politicians and that of the people: India has 80 per cent its politicians well over 70, while 70 per cent of the country's population is below 40 years of age. Senior politicians in different parties have acquired larger-than-life images, simply because of their length of stay and not for any sacrifices made by them.
But the time is changing, and in this changing time, we need to change our perception of leaders. As against Barack Obama, who is 47, Gordon Brown, who is 56, Nicholas Sarkozy, who is 52, Dr. Angela Merkel, who is 51, our Prime Minister, Dr. Manmohan Singh is 75 and PM-in-waiting (Advani) is 81. Is it a sign of Young, vibrant and strong India or monotonous, old and traditional India so far the political leadership is concerned?
There is another issue: we love democracy and hate dictatorship; in dictatorship, just because a single person rule for long years against people's will. It is despised; in democracy, same persons take turn to rule a country, but with people consent (not even majority). We have plenty of leaders, including Advani, who are in politics for more than four, three decades, but they don't think of retirement. This is democratic dictatorship. And which is why Advani has opened up all out media publicity to be everywhere and to be seen by everyone.
LATEST IMAGES

MORE...
Social bookmark this page
Post comments: