'??India Remembered'?? digs up the Nehru-Edwina relationship
New Delhi, Tue, 17 Jul 2007
NI Wire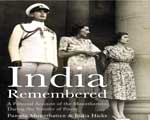 July 17: The book by Pamela Mountbatten the daughter of the last viceroy of India, 'India Remembered' digs up the issue of the nature of the relationship of Jawaharlal Nehru with her mother Edwina.
Pamela writes in her book that a kind of deep love or platonic love developed between Nehru and Edwina during the transfer of power in 1947.
Pamela opens her book with the sentence, "towards the end of the fifteen months we spent in India, the immediate attraction between my mother and Panditji blossomed into love".
Pamela clearly accepted the influence her mother exercised on Nehruji on the issue of reference of Kashmir issue to United Nations. She further accepts that her father used the emotional relationship of her mother to influence Panditji.
In response to the recent controversy on the love affair between Nehru and Edwina created by Pamela's book, Congress denied of any ban on the book. Congress spokesperson, Dewendra Dwivedi ruled out any plan to ban the book saying that books are a part of democratic culture and should not be banned until they harm social fabric and incite the passion of particular section.
This is not new that a controversy has arisen on personal account of life of some renowned leader. He cited recent book on Mahatma Gandhi which created similar debate.
He said that such books are a combination of fact and fiction.
While Pamela claims to use diary entries and extracts from her family albums and the personal account of Mountbatten himself, she also quotes a letter of her father written to his elder sister in which he discusses about the relationship.
Pamela also quotes a letter in her book allegedly written by Nehru to her mother in which Nehru makes confession of love on his side too.
LATEST IMAGES

MORE...
Social bookmark this page
Post comments:

vasu vittal
July 23, 2007 at 12:00 AM