Govt. approves 10 FDI proposals worth Rs. 2339 cr.
New Delhi, Thu, 05 Jul 2007
NI Wire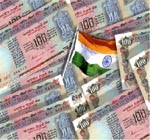 July 05: The governmenttoday approved 10 Foreign Direct Investment proposals recommended by Foreign Investment Promotion Board (FIPB) to invest a total inflow of Rs. 2,339 crore includes Morgan Stanley's Rs. 1,894 crore proposal. These proposals will cover stock broking, banking, chemicals, automobiles, information technology and publishing sectors.
Indian Finance Minister P.Chidambaram has approved today 10 FDI proposals include Rakindo Developers, Furukawa Electric Co, DaimlerChrysler, Luxocitta Holland, EMAP publishing, Colorcon Ltd, Perfect Glazing, Trivendrum Construction and Developers along with Morgan Stanley. All these companies are permitted to make strong the different sectors.
Morgan Stanley's proposal is the biggest proposal among these worth $465 million in the form of equity and compulsorily convertible preference shares issued by Morgan Stanley India Securities and Morgan Stanley Investment Management. It is also permitted to carry its subsidiaries, securities sales, trading & broking, merchant banking and corporate advisory services and other NBFC activities.
Chennai based Construction Company Rakindo Developers has also permitted to make a joint venture to act as a holding company for making downstream investment in construction development projects worth Rs. 407 crore through foreign investment.
Furukawa Electric Co., a Japanese firm has a proposal of Rs.19 crore to set up a joint-venture company with foreign equity up to 51% for undertaking the activities of designing, developing, manufacturing, testing, assembling, marketing, selling, distributing and servicing of wire harnesses for two-wheelers and automobiles. The joint-venture company's customers were also got clearance in this permission.
DaimlerChrysler, the Indian steel manufacturing company has also allowed to expanding its present activity, business product from its current status by making chassis of the Buses and Trucks.
Luxocitta Holland, the sunglasses manufacturer has got the permission to set up a wholly- owned subsidiary to undertake wholesale cash and carry trading in the eyewear industry while Netherland-based EMAP Publishing Company has been allowed to pick up 40.1 percent equity for Rs 4.81 crore in Next Gen Publishing which publishing a car magazine.
Finance Minister has also permitted to Colorcon Ltd, England on 5 to 8 percent royalty payment on domestic and export sales without any restriction of time limit. Besides these Chidambaram has also approved the proposals of Perfect Glazing and Trivandrum Construction and Developers to expand their business through attracting foreign investors.
LATEST IMAGES

MORE...
Social bookmark this page
Post comments: