CBI arrested two CPI (M) leaders in Singur girlā??s murder case
Kolkata, Fri, 29 Jun 2007
NI Wire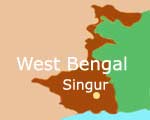 June 29: The Central Bureau of Investigation (CBI) has arrested two CPI-M leaders of Kolkata for allegedly murdering a girl from Singur, the area of Tata Motor's car project. This has brought the communist party under the scanner of opposition especially the Trinamool Congress that is constantly opposing the farmland accusation.
The CBI officials arrested Debu Malik a supporter of the party and Suhrid Dutta who is reportedly the CPM's zonal secretary of Singur in link with the girl's murder. The Kolkata police on Dec 18 last year found the body of a 19-year girl Tapasi Malik at the controversial car project site. The girl was also an activist of anti-land accusation group named "Krishi Jami Raksha Committee".
Meanwhile CBI has planned to produce both the culprits in the local court today and take action accordingly. The main culprit in the murder case Debu Malik had apparently confessed his crime. At the very particular day of the crime he was the in charge of the guard defending the boundary wall in Singur.
This incident has brought embarrassment to the party as it was earlier rejecting any claim of its worker's involvement in the crime. Even now some leaders of the party are trying to give the killing another mode by saying that it was a private affair and has nothing to do with Singur land accusation controversy. This is so because the victim was also a relative of Debu Malik who first killed Tapasi and later scorched, though the police had later recovered the burnt body.
Trinamool Congress leader Mamata Banerjee who is leading the farmers fight against the land accusation has termed it as CPI-M's anti people policy. CPM is trying to maneuver the whole episode but this proves its attitude towards people in the name of industrilasation, she added while talking to media person in the city.
CPM however, termed it as a conspiracy to disrupt the industrialization process in the state. According to a senior CPM leader, if the government had anything to hide then Chief Minister would not have ordered for a CBI probe.
Meanwhile, the security in the region has tightened as it may create further anger and protest in the controversial area.
LATEST IMAGES

MORE...
Social bookmark this page
Post comments: