NO Repeal of Armed Force Special Power Act: Defense Minister
New Delhi, Wed, 27 Jun 2007
NI Wire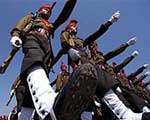 June 27: Defence Minister AK Antony in a function yesterday made it clear that it is not possible to repeal the Armed Forces (Special Powers) Act (AFSPA) from some declared disturbed areas keeping in mind the insurgency.
This Act passed in the 1958 legislation is believed to be the most harassed law in Indian legislation history. Critics and Human Right activists are continuously advocating for its removal as it results in torture of innocent civilians by armed forces. Under AFSPA any armed officials deployed in any troubled areas have the power to shoot and arrest anyone under suspicion in order to maintain public order.
However, this act mostly resulted in torture, killing, rape, detention and harass of civilians by military officials. There is always a strong movement against the act in North Eastern states and also the Jammu and Kashmir state. The agitation in various places had gained momentum after the rape and killing of Manorama Devi in Manipur by personnel of Assam Rifles.
According to the Defence Minister the country can not afford to completely revoke the act as it is in much need to deal with rebels operating from foreign soils. To stop insurgent, terrorist activists and infiltration there is a strong requisite giving special power to armed forces so that they can deal with those antinational elements effectively. However, there is always possibility of amendment in the act to make it more humane, he added.
On Monday, the Second Administrative Reforms Commission had suggested to repeal the act in its report to Prime Minister. The act grants security forces extra power to deal with any terrorist or antinational activities. But various cases have revealed its misuse and hence on humanitarian ground appeals have been made from various quarters for its removal.
Antony said that armed forces are asked to take control of a region where situation becomes worse and against nation, and such extraordinary situation can always be dealt with some extraordinary powers. This act is necessary to stop terrorist activists in border-states as police and paramilitary forces found it difficult to control terrorism. At the same time any violation of the act can not be tolerated and strict action is taken against the culprit, he maintained.
null
null
LATEST IMAGES
null
null
MORE...
Social bookmark this page
Post comments: