Shiv Sena extended its support for Patil on Maharashtrian ground
New Delhi, Tue, 26 Jun 2007
NI Wire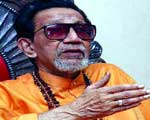 June 26: Ending all speculation the Maharastra regional party Shiv Sena has yesterday extended its support to Pratibha Patil's presidential candidature. Sena who is a longtime ally of BJP and also the advocate of Hindutva now ready to support UPA-Left candidate Patil for her Maharashtrian base.
Party supreme Bal Thackeray on yesterday evening formally announced his support to Patil and said that it is a proud moment for Maharastra and the whole nation that a women candidate is being nominated for the post of president.
He also mentioned that since Independence the country has not had a Marathi President and it is also a special occasion as Maharastra has completed its 47 th year of its formation.
Thackeray also criticized BJP's proposal to present Vice-President Bhairon Singh Shekhawat as an independent candidate. He added "we took this decision because the NDA made Shekhawat stand as an Independent candidate just to obtain votes from other parties, which he couldn't have got as a BJP candidate and this kind of bargain is not acceptable."
However, the most important thing that one has to look forward that how it is going to balance the Shiv Sena and BJP alliance in future. As BJP-Shiv Sena has a long relationship in state as well as in the Centre level, this kind of development may deter their political tie-up in future Assembly or Parliamentary election.
Meanwhile, the UPA-Left alliance has now highest number of votes in the Electoral College and the support of Sena with nearly 25,000 votes can really make a big difference in this Presidential Election.
LATEST IMAGES

MORE...
Social bookmark this page
Post comments:

Samir Pradhan
June 27, 2007 at 12:00 AM

R.Menon
June 26, 2007 at 12:00 AM