Govt resumes Hockey, Football in 'priority category'
New Delhi, Thu, 24 Apr 2008
NI Wire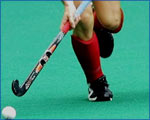 The game for common people include Hockey, Football, School Games and Basketball re-backed in the government's priority list as on Wednesday the Ministry of Youth Affairs and Sports has re-categorised eight sports and put them into the highest category, the 'priority list' for providing them the maximum exposure and top level facilities.
Ministry has also sent the order in this regard to make it effective since April 24 to Indian Olympic Association and all recognised National Sports Federations / Associations.
Issuing the order in this regard, Union Sports Minister M S Gill has said, "The sports federations must be made accountable for their sport's performance."
He pulled the legs of all sports federation of the nation and asked to do major revamping of the sports scene in the country.
Stressing on the significance common people's game, Gill said, "His attempts would be to promote sport for the aam aadmi (common man) that included athletics, hockey, football, volleyball and basketball."
While on the National Game (Hockey) he said, "Hockey is everyone's game, it is a game of sentiments and has to be pushed to the top again and again". However, he has also asked the Indian Hockey Federation to bring back hockey on the top international level.
"India must be in the top three hockey teams by the next Olympics." he asked.
Suresh Kalmadi, the Chief of Indian Olympic Association in this regard has held each association accountable for respective sports.
The Sports ministry has re-organised the game list by pulling back four games (Hockey, Swimming, Basketball and School Games) from General category to 'Priority' while four other games (Football, Cycling and Volleyball) from 'Others' category to the same list.
University Games has been included in this list for the first time.
Besides this, to enhance the poor performance of Indian Hockey since last a couple of years when India could not win a medal in Doha Asian Games-2006 and unable to qualify for the upcoming Olympic in this year, Ministry has appointed two renowned Hockey players Ajit Pal Singh and Zafar Iqbal in the place of R S Bhola and Miss Rupa Saini to observe the all selection process and to help IHF in all manner for the promotion and development of Hockey as being government observer.
The games that have been re-categorised from 'others' to 'priority' category will be able to hire foreign coaches, as ministry has stated in its order.
LATEST IMAGES

MORE...
Social bookmark this page
Post comments: