President Abbas declares dissolution, Hamas occupies the Gaza
New Delhi, Fri, 15 Jun 2007
Shoeb Hamid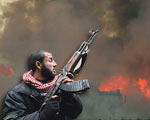 June 15: After a week's fighting and bloodshed in Gaza, the Hamas faction has finally took control of the city. Hamas launched a series of attacks on key strongholds of Fatah outfit. The two have been engaged in a fierce territorial battle since last week, which claimed lives of more than 100 people.
Yesterday, the Palestinian Authority President, Mahmoud Abbas sacked the government, after Hamas launched a major attack in the city. The city was caught in fire and fumes and peace now has been temporarily restored. Amid the surpassing violence, Abbas declared an emergency yesterday, with the announcement of a caretaker government.
The differences between the leadership, with Mahmoud Abbas favouring the Fatah and Prime Minister Ismail Haniya favouring the Hamas, are visible now. According to reports, Abbas favours an independent status for the Gaza Strip. However the PM, Haniya, has altogether rejected any such suggestion and stands for the united Palestine.
Mahmoud Abbas decisions have been amply supported by U.S. and Fatah supporting Lebanon.
In a statement of victory, Hamas official Sami Abu Zuhri declared in Gaza: "What happened today in the Preventive Security headquarters was the second liberation of the Gaza Strip, this time from the herds of collaborators," the first being Israel's 2005 pullout of troops and Jewish settlers.
In 2006 elections Hamas came out as victorious which led to the establishment of government backed by Hamas. Right from the beginning, the U.S. and Fatah outfit (which are strong in the West Bank area) have been a pain to the Hamas. Earlier also, the U.S. expressed its unwillingness to accept the Hamas leadership and expressed their dissent of the government so formed.
With the declaration of the dissolution of the government, US Secretary of State, Condoleeza Rice has already endorsed the move and called for the support of the President. Analysts say that the violence in Gaza and the rule of the Hamas will also have its effect in West Bank. The two groups are now severely wounded and engaged in a crude form of a civil war. Strategically only Israel will be gaining by the dispute and bloodshed between Hamas and Fatah.
A Hamas victory would also hasten Bush administration hopes that Abbas and his forces would be able to exercise security control over Gaza, a key Israeli condition for resuming serious peace negotiations. US President hoping for progress in his last year and half in office will be meeting Olmert in Washington next week.
LATEST IMAGES

MORE...
Social bookmark this page
Post comments: