PM'??s speech at the CII just reflects the essence of '??Inclusive Growth'?? and not his change of h
New Delhi, Thu, 14 Jun 2007
Pallavi Sharma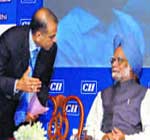 June 14: Storm, a consequent of the speech delivered by our Prime Minister Manmohan Singh on the occasion of the annual session of Confederation of Indian Industry (CII) has not stopped even after two weeks of the event. Statements of the PM evoked resentment among a certain section and received unexpected criticism in papers.
Some accused him of preparing background for coming elections to sue 'the common man', others questioned if he is in a mood to revert the process of reforms initiated by him only. Some blamed him that he wants to go back to era of poverty. Some advocated the concept of economic freedom in response to his ten point social charter (keeping in mind the economic freedom of a small section only and ignoring that of big one). And some welcomed it as a shift in the focus from India to Bharat and revival of Gandhian economic theories.
But what the prime minister emphasised in his speech was neither the reverse gear from reforms nor the will to go back to poverty era, he just highlighted the consumer culture (undesirable costly life-style and pomp and show of wealth) prevalent among few privileged sections on one side and the dearth of basic facilities for a large section of population which survives on less than a dollar a day on another pole and tried to promote the 'culture of saving and investment' which has done great miracles to economies in the past. Japan is glaring example of this and he himself cited the example of European society.
Saving of the country happens to be very important pillar in the cycle of growth. If saving of a country is high, there will be more investment in industries which will start capital formation needed to start industrialization consequently employment generation. This can also reduce the dependence on foreign direct investment and can stabilise our economy.
Those who blamed him that he wants to go back in era of poverty missed the fact that he had a great vision and is preparing the plot for future growth. And he adopted a far-sight regarding the repercussions of the growth, with unequally distributed fruits. We have achieved 9 percent growth rate but how are we going to maintain it?
As a visionary he noticed the interconnection of economic growth and social progress so reminded the corporate sector that owing to the partnership in growth they also share social responsibility and this is how they can eradicate poverty from the land. Definitely he echoed Gandhiji's concept of trusteeship which alone can fill this gap of inequality.
Many critics suggested imposition of luxury taxes if he really wants to narrow the gap of inequality. But question arises is it necessary to do everything by making a law or politically. Can't certain things be promoted by appealing to the intellect or incorporating attitude?
He just tried to speak for the cause of those who are not enjoying the benefits of growth and speech does not seem to have any political colour. He stressed the judicious use of resources in view of increasing population.
This is quite unfortunate to highlight only certain words and push other more important statements to corner which really can trigger a change for better. Ten point social charter is not mere a paper but an open invitation for public-private partnership which is the only way today for the development of the country, including those 300million people below poverty line. He really spoke on the topic for which he was invited. Rebuke to the media was also not irrelevant in view of recent events of display of wealth through marriages. Though prime minister discussed workers' welfare, investment in skills and eco-friendly technologies, employment generation, non competitive behaviour of industries, emphasis on innovation, and social responsibility but the whole debate was confined to just one point that is salaries of CEO's. Thanks to media.
LATEST IMAGES

MORE...
Social bookmark this page
Post comments: