SC declines CBI probe into Kandhamal nun rape case
New Delhi, Wed, 22 Oct 2008
NI Wire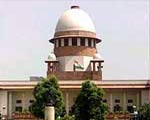 The Supreme Court on Wednesday declined to handover the alleged rape case of a 28-year-old nun during the Kandhamal communal violence in Orissa to the Central Bureau of Investigation.
The apex judiciary body said in its order that the case related to communal violence will be conducted by the Fast Track Courts. The court also directed the state administration to assist in the reconstruction of Churches demolished and damaged during the communal clash.
Orissa government had, however, said in a statement that any grant to any religious institutions is against its secular policy. It had also strongly objected in the apex court against any move to transfer the nun rape case to the CBI saying "there was neither any ground nor need for transfer of the investigation of this case to the CBI."
State counsel in its argument cited that the case is at present under the crime branch of the state police which is conducting it in a free and fair manner and has made considerable progress, so there is no need for a CBI probe.
It is to mention here that the police have so far arrested eight people in connection with the case, but has no clue whatsoever on the whereabouts of the nun. On Tuesday, the state police also claimed to have arrested the prime accused in the rape case.
null
null
LATEST IMAGES
null
null
MORE...
Social bookmark this page
Post comments: