States to scramble for smaller institutions
New Delhi, Tue, 01 Apr 2008
Deepak Kumar Mohanty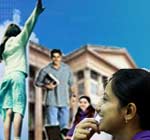 As the Centre on March 29 announced to set up 8 new IITs and 7 new IIMs along with 30 central and world class universities during the 11th five year plan, state administration are gearing up for other smaller institutes coming on their way. State representatives are voicing for their shares, which can put them in the league of other states by improving the quality of higher and technical education system.
As per planning, four IITs would be set up at Indore in Madhya Pradesh, Orissa, Gujarat and Punjab to get one each. The ministry had already announced IITs for Bihar, Rajasthan, Himachal Pradesh and Andhra Pradesh. Apart from seven new IIMs envisaged in the 11th Plan, one each would be set up in Tamil Nadu, Jammu and Kashmir, Jharkhand, Uttarakhand, Haryana, Chhattisgarh and Meghalaya.
Under such circumstances the states which left out from having such opportunity are now looking forward to gain at least some with other important education institutions like National Institute of Technologies (NIT), Indian Institutes of Science Education & Research (IISER), Indian Institutes of Information Technology (IIIT), National Institute of Fashion Technology (NIFT) and various other higher educational institutions.
Even though some of the institutions are smaller compared to those of IITs, IIMs and world class central universities but those are of highest importance considering the present educational reform and coming young generations with need of a large-scale employment.
Moreover, it is for sure that there will be a scramble for the smaller institutions that have not yet been formally announced. The proposed institutes are as follows:
• There are 10 new NITs (National Institute of Technologies) in the 11th plan. At present there are 20 NITs and states which don't have a single one will certainly push for this.
• Establishment of 20 Indian Institutes of Information Technology (IIIT) – as far as possible in the Public-Private Partnership mode.
• Proposal of the State Governments to set up four new National Institutes of Design (NIDs) as per the National Design Policy 2007 as was announced by the Commerce Minister Kamalnath.
• Setting up of 370 degree colleges in low GER districts
• Proposal for 50 Centres for Training and Research in frontier areas
• Establishment of 370 Colleges in districts where access and participation rates are lower than the national average. Most of these districts also have a concentration of SCs, STs, and minorities.
• Also there are plans to establish NIFT (National Institute of Fashion Technology) in some chosen cities that are yet to be announced.
Hence under the 11th Five Year Plan the government aims to increase Gross Enrolment Ratio from 11% in 2006 to 15% by 2011-12 by establishing and improving infrastructure for higher education while at the same time committed to making no compromise on the quality with structural changes. The entire changes are to meet the requirements of a knowledge economy in a globalised world.
LATEST IMAGES

MORE...
Social bookmark this page
Post comments: