Parliamentarians remind US of its limits
New Delhi, Sat, 15 Mar 2008
NI Wire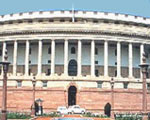 There was uproar in parliament on Friday on US State Department annual report in which there is gross violation of human rights in Nandigram was mentioned including the human rights violation of several other countries.
The report gave attention to police firing in Nandigram in March last year in which many innocent died including custodial deaths in Kerala and Narendra Modi regime's inability to arrest and deliver justice to the victims of Gujarat riots.
The report mentioned, "In West Bengal, violence in Nandigram district led to accusations of state government failure to control ruling Communist party cadres, which were accused by human rights groups of killing more than 30 rural villagers and intimidating them through violence and rape."
The matter was raised in Question Hour by Gurudas Dasgupta (Communist Party of India) who said that the report as "grave interference in the internal affairs of India by the Bush administration."
He hailed that though there are differences of opinion regarding Nandigram in India but this report should be condemned by the entire house as it has nothing to do with America and is purely an internal matter of India.
Lok Sabha Speaker Somnath Chatterjee taking notice of the report said that this report on human right violation by US "should be ignored with the contempt it deserves."
Information and Broadcasting Minister Priyaranjan Dasmunsi hitting back at US said, "We don't have to listen to the Americans about issues in our country."
The CPM in its statement showing disapproval to the mentioning of Nandigram Violence in the report said that US should instead work on the gross human rights violations in Iraq and by the Israeli regime in the Gaza Strip and other areas of occupied Palestine.
The entire house unitedly condemned US for its interference on the matter citing the fact that America has no right to comment on the internal affairs of the nation.
null
null
LATEST IMAGES
null
null
MORE...
Social bookmark this page
Post comments: