India set up Beijing qualifier clash with Great Britain
New Delhi, Sun, 09 Mar 2008
NI Wire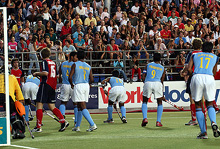 Indian hockey men continued their good run in the ongoing Olympic qualifiers, in their quest to secure the all-important Beijing Olympic berth, as they convincingly defeated host Chile 4-1 to set up final clash against Great Britain to be played on Sunday.
India's place for the final was already confirmed following Britain's 4-0 win against Austria earlier in the day which also helped Indian boys to go with a free mind against Chile to get much-needed match practice ahead of crucial final against formidable Britain team.
India will through all its weight and brace up their sleeves against dangerous opponents in Sunday's final as they already lost to Britain 2-3 in a close encounter previously. The winner of the final will qualify for the 2008 Beijing Olympics.
India finished second overall behind Britain (15) with 12 points, followed by Austria (9), Russia (6), Chile (3) and Mexico (0). Prabhjot Singh opened the scoring for India in the 9th minute of the play, but after that it took India a long to find the score again.
India finally managed two quick goals in succession, first by drag-flick specialist V.R. Raghunath slotted home in the 23rd minute after finding a defensive deflection from Chile player in their own goal, then a stinging shot by Bharath Chhikara, a minute later that gave no chance to the keeper.
Indian team hovered around the Chilean camp most time of the play, but the Chileans held their fort tightly, defying all the Indian moves and not leaving any room for the opponent forwards.
With play becoming more intense, tension building and fatigue kicking in, the two teams were reduced to ten players for a while but no goal was scored until the 61st minute in the latter half when V.R. Raghunath converted a penalty-corner to increase his lead to 10 in the top scorers table.
India team once gain faced the problem of getting a yellow booking and conceding a goal in the final session after dominating the entire match. India received their third yellow card in two matches when Ajitesh Roy was given marching orders in the 57th minute for bringing down Cristobal Rodriguez.
Chile was rewarded of their hard work when Felipe Montegu scored on penalty-corner, triggering loud cheers from the crowd.
The World Hockey Olympic Qualifier concludes on Sunday in Santiago, when Chile meet Mexico for 5th-6th place, Austria take on Russia for 3rd-4th place, and Great Britain and India lock horns in the much anticipated Finale for the coveted ticket for Beijing.
Final Pool Standings:
1) Great Britain 15pts 2) India 12pts 3) Austria 9pts 4) Russia 6pts 5) Chile 3pts 6) Mexico 0pt
Results (Saturday)
Great Britain 4:0 Austria (Half-time3:0) Russia 9:1 Mexico (Half-time 5:0) Chile 1:4 India (Half-time 0:3)
LATEST IMAGES

MORE...
Social bookmark this page
Post comments: