Left triumphs in Tripura; Congress emerges as the largest party in Meghalaya
New Delhi, Fri, 07 Mar 2008
NI Wire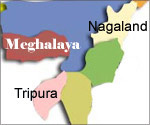 The ruling Left Front government in Tripura stormed back into power for the fourth consecutive term in Tripura's 60-member Assembly, while the way to Vidhan Sabha for the ruling Congress in Meghalaya looking clear to capture the power again.
As per the final results that declared on Friday, the ruling Left Front in the 60-member Tripura Assembly won 49 out of 60 seats; while in Meghalaya, the ruling Congress party declared the single largest party by winning 25 seats, following which the NCP with grabbing 15 seats.
Tripura Election
The ruling Left Front on Friday secured three-fourth majority in the 60-member Tripura Assembly by winning 49 out of the total 60 seats.
The largest party of the state CPI (M) bagged 46 seats while its allies RSP got two and CPI, only one. The Forward Bloc, which was part of the ruling Left Front in the outgoing assembly, did not fight the election following differences with the CPI-M over seat sharing.
This is the fourth consecutive win for the Left Front. Earlier, in 1993, 1998 and in 2003 the Left Front had captured power.
The Left Front has improved its performance, as compare to the 2003 elections in the state by winning more number of seats in the state this time. In the last election, the Front had won 41 seats.
Chief Minister Manik Sarkar (CPI-M) won from Dhanpur constituency defeating his rival by mere 2,900 votes.
The Opposition Congress has won only 10 seats and its ally, Indigenous Nationalist Party of Tripura (INPT) managed to win only one seat with its president Bijoy Kumar Hrangkhwal scraping through by 115 votes in Hrishyamukh constituency.
Poll Results:
Total seats = 60 CPI (M) = 46 RSP = 02 CPI = 01 Congress =10 INPT = 01
Meghalaya Election
In Meghalaya's Assembly election, the ruling Congress party has emerged as the single largest party by whooping 25 seats ahead of its opposition NCP, which took over 15 seats.
The election for Assembly election in Meghalaya was held for 59 out of total 60 seats on March 03. The ruling Congress party that had coalition ministry in the outgoing assembly with the support of Independents and two smaller parties- Hill State People's Democratic Party (HSPDP) and Khun Hynnieutrip National Awakening Movement (KHNAM) is again expected to form the coalition ministry.
Polling for one seat, the Baghmara constituency was postponed to March 22 following the death of Congress contestant S M Sangma.
The main Opposition Party NCP led by former Lok Sabha Speaker P A Sangma gained 15 seats followed by the United Democratic Party (UDP)- 11, HSPDP two and KHNAM and BJP one each. The Independents won four seats.
The Congress contested the election without any alliance this time after having headed the outgoing Meghalaya Democratic Alliance government.
Total seats = 60; Election held = 59
Congress =25 NCP = 15 UDP = 11 BJP = 01 KHNAM = 01 HSPDP = 02 Independents = 04
LATEST IMAGES

MORE...
Social bookmark this page
Post comments: